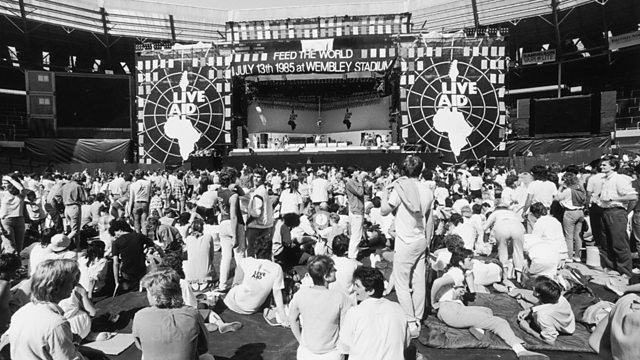 Do They Know It's Christmas? - How Pop Found a Social Conscience
We Brits like to think that we believe in a sense of fair play and of doing the right thing, and this episode proves this absolutely. In the midst of the Thatcher years, the so-called time of greed and self-interest, where pampered rock stars jetted all over the world in mind-boggling luxury, a very strange thing happened. An ex-punk singer was watching TV and was appalled to see a human disaster enfolding on a massive scale in West Africa. Charities were doing their best to help battle the famine, but governments sat idly by wringing their hands and saying how awful this all was. But Bob Geldof was determined to do something about it. So enlisting his pal Midge Ure (of Ultravox fame), they wrote a song and then persuaded, coerced and even bullied the rock royalty of the day to sing on it. It was a song that was at once both uplifting and yet unsentimental, and the key line, "thank God it's them instead of you", was searing in its honesty.
Within a week of release, the single had sold a million copies, was number one for five weeks (ultimately selling 3.7 million copies in the UK), and was, at the time, the biggest selling UK single ever. But that wasn't enough for Geldof. Thanks to Sir Bob's drive and compassion, charity singles became ubiquitous but back in the mid '80s it was a novel solution to an old problem. There'd been George Harrison's single, concert (and subsequent triple live album and film) in aid of war victims in Bangladesh, as well as other ad-hoc charity fundraising gigs, but Geldof's vision was on another level altogether. Do They Know It's Christmas? would sell nearly twelve million copies worldwide and was soon followed with a plan to stage the greatest show ever seen. And in that hot July of 1985 Live Aid took place, most famously in London's Wembley Stadium and the JFK Stadium in Philadelphia. But events also took place in Cologne, Moscow, The Netherlands and Sydney. It was truly a global event, watched by an estimated worldwide audience of 1.9 billion - or in other words, by about a third of the planet.
Last on