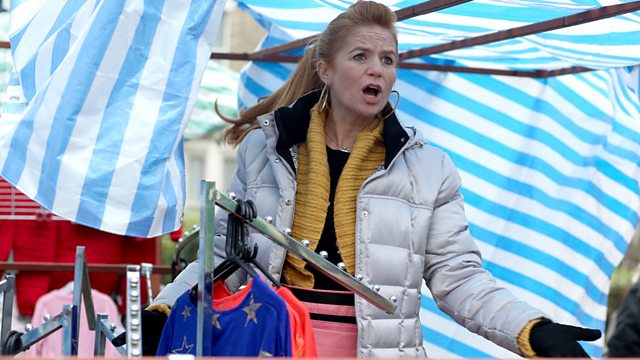 11/02/2013
Bianca's stressed - Tiffany's whinging about her schoolbag, Morgan's written on the walls and ruined Whitney's top. Bianca lends Whitney a top from the stall for her interview. Bianca's determined to get the money together to send Liam on a trip to the Olympic Park, Kat gives Bianca her share of the day's takings towards it. Bianca's meeting with probation officer Steve Lowe goes well, despite a small hiccup when Carol calls him a 'nosy probation clown'. The police bring Liam home. He's been truanting and Bianca's shocked to learn that if he continues to do so any penalty will be hers; she could even go back to prison….
It's Bianca and Kat's first day on the stall, Alfie brings them tea and Kat suggests they buy him a thank you drink later. Roxy puts a stop to the idea after Alfie admits he gave the girls a loan. Later, missing Alfie, Kat calls him over to No.23 claiming Tommy's ill. Alfie quickly realises Kat's lied and resists her attempts to make him stay.
Tamwar blames Masood for Zainab leaving. Masood attempts to tackle Tamwar's despondency; Denise points Masood towards a job advert but Tamwar's not thrilled at the prospect of being 'market assistant'. Determined to get him to university, Masood promises to match pound for pound anything Tamwar makes. Tamwar agrees to talk to Mr Lister about the job. Masood's glad of AJ's support.
Roxy gives Kirsty short shrift. After Patrick tells Kirsty stories about his cricketing youth - it pays to be nice - Kirsty apologises to Roxy and gets her job back.
With Tanya away and Poppy in charge at Booty, Lola asks to do some treatments. She's disheartened when things go wrong but thrilled when Poppy says she'll talk to Tanya about getting Lola an Apprenticeship.
Last on
Credits
| Role | Contributor |
| --- | --- |
| Bianca Butcher | Patsy Palmer |
| Liam Butcher | James Forde |
| Carol Jackson | Lindsey Coulson |
| Kat Moon | Jessie Wallace |
| Alfie Moon | Shane Richie |
| Roxy Mitchell | Rita Simons |
| Kirsty Branning | Kierston Wareing |
| Patrick Trueman | Rudolph Walker |
| Denise Fox | Diane Parish |
| Masood Ahmed | Nitin Ganatra |
| Tamwar Masood | Himesh Patel |
| AJ Ahmed | Phaldut Sharma |
| Poppy Meadow | Rachel Bright |
| Lola Pearce | Danielle Harold |
| Arthur 'Fatboy' Chubb | Ricky Norwood |
| Whitney Dean | Shona McGarty |
| Tiffany Butcher | Maisie Smith |
| Morgan Butcher | Devon Higgs |
| Steve Lowe | Michael Simkins |
| Policeman | Ken Bradshaw |
| Executive Producer | Lorraine Newman |
| Director | Daniel Wilson |
| Writer | Peter Mattessi |