Smart meters, Spotify and unadopted roads
More than a million electricity smart meters have been installed in UK homes, under plans to offer one to every household by 2019. The cost is estimated at £11bn, but some experts think they're already an out-of-date technology.
Some people who pay for Spotify's 'Premium' online music service are having problems using it with Android mobile phones. The adverts say the two are compatible, but the company also says it's working on a fix.
A private road might sound like luxury living, but many homes are on 'unadopted roads' with no real owner or maintenance. Hear about the pitfalls, potholes and effect on property prices.
Presenter: Peter White
Producer: John Neal.
Last on
Smart Meter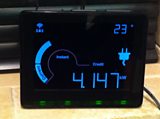 Around a million smart meters have been installed as the first phase of an eleven billion pound project to offer a smart meter to every home in the UK before the end of the decade.