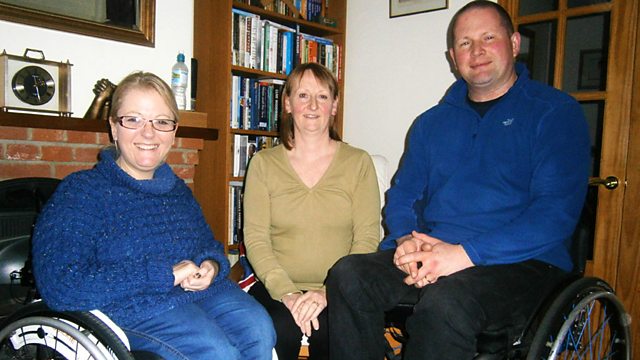 My Lover, My Carer
What happens to long-term relationships when a lover becomes a carer? Julie Fernandez talks to four couples where one partner has a severe disability about the challenges of being the carer - and the cared-for.
Natalie Burr was a world-class trampolinist, training for the Olympics. In a split second her life was turned upside-down: she misjudged a triple summersault and crashed onto the mat. She lay there, unable to feel her legs, knowing she had broken her neck. Being handed her phone, she rang her husband Shane and asked "Will you leave me?".
Many couples don't survive sudden disability - the pressures are just too great. But Shane didn't leave, and he is still together with Natalie and they have gone on to have a baby. How have they made it work? For those who do manage to stay together, how do they negotiate the sudden shift of roles?
The four couples whose lives have been transformed by disability, talk frankly and movingly about how their relationship has changed and how power has shifted between them. They talk about adjusting to a different life: all the daily stuff - making tea, mowing the grass, cuddles in a wheelchair, what to do about sex. When a lover becomes a carer it can distort intimacy in ways which can be difficult to discuss.
Julie has brittle bone disease from birth, while her husband Andrew is not disabled. She brings her own experience of disability to those for whom this is a new and sometimes devastating experience. She's both challenging and sensitive in probing taboo areas - from attitudes towards sex to feelings of guilt and exhaustion.
Producers Elizabeth Burke and Hilary Dunn
A Loftus Media production for BBC Radio 4.
Last on