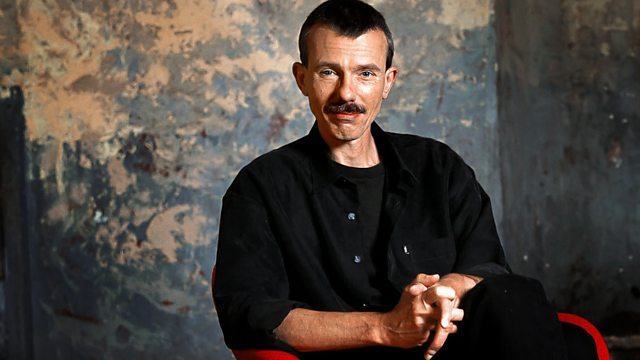 16/02/2013
Jonathan Swain presents the Aldeburgh World Orchestra conducted by Sir Mark Elder performing at the 2012 Proms. Programme includes Britten, Mahler and Stravinsky.
1:01 AM
Britten, Benjamin [1913-1976]
Sinfonia da Requiem
Aldeburgh World Orchestra, Sir Mark Elder (conductor)
1:21 AM
Mahler, Gustav [1860-1911]
Symphony No. 10 - Adagio
Aldeburgh World Orchestra, Sir Mark Elder (conductor)
1:44 AM
Bray, Charlotte [1982- ]
At the Speed of Stillness
Aldeburgh World Orchestra, Sir Mark Elder (conductor)
1:55 AM
Stravinsky, Igor [1882-1971]
The Rite of Spring
Aldeburgh World Orchestra, Sir Mark Elder (conductor)
2:30 AM
Elgar, Edward (1857-1934)
Enigma Variations (Op.36)
BBC Philharmonic, Yan Pascal Tortelier (conductor)
3:01 AM
Bach, Johann Christian (1735-1782)
Quartet for flute/violin and strings (T.309/3) in A major
Sofia Soloists Chamber Ensemble, Plamen Djurov (Conductor)
3:18 AM
Mendelssohn, Felix (1809-1847)
Trio for piano and strings no.2 (Op.66) in C minor
Leonidas Kavakos (violin), Eckard Runge (cello), Enrico Pace (piano)
3:47 AM
Delibes, Leo [1836-1891]
Sylvia - suite from the ballet
Slovak Radio Symphony Orchestra in Bratislava, Oliver Dohnányi (conductor)
4:05 AM
Tchaikovsky, Pyotr Il'yich (1840-1893)
Slavonic March in B flat minor 'Marche slave' (Op.31)
BBC Philharmonic, Rumon Gamba (conductor)
4:15 AM
Handel, Georg Frideric [1685-1759]
Organ Concerto No.1 (Op.4 No.1) (HWV.289)
Concerto Copenhagen, Lars Ulrik Mortensen (organ and director)
4:31 AM
Cassado, Gaspar (1897-1966)
Requiebros for cello and piano
Il-Hwan Bai (male) (cello), Dai-Hyun Kim (male) (piano)
4:37 AM
Schütz, Heinrich (1585-1672)
Two madrigals (SWV 1 & 2)
Cantus Cölln, Konrad Junghänel (lute and director)
4:43 AM
Chopin, Frédéric (1810-1849)
Polonaise in A flat major (Op. 53) "Polonaise héroïque"
Jacek Kortus (piano)
4:50 AM
Ranta, Sulho (1901-1960)
Finnish Folk Dances - suite for orchestra (Op.51)
Finnish Radio Symphony Orchestra, Jukka-Pekka Saraste (conductor)
5:01 AM
Schmelzer, Johann Heinrich [c.1620-1680]
Sonata in D for 3 violins and continuo
Il Giardino Armonico
5:08 AM
Reinecke, Carl (1824-1910)
Ballade for flute and orchestra
Matej Zupan (flute), Slovenian National Radio Symphony Orchestra, David de Villiers (conductor)
5:16 AM
Liszt, Franz (1811-1886)
Gnomenreigen - from Two Concert studies for piano (S.145)
Lana Genc (piano)
5:20 AM
Schubert, Franz (1797-1828)
Quartet for strings in C minor (D.703) 'Satz'
Tilev String Quarte
5:31 AM
Bartók, Béla (1881-1945)
A falu tanca (Village dance) - from 2 Pictures for orchestra (Sz.46) (Op.10)
Slovak Radio Symphony Orchestra in Bratislava, Bystrik Re?ucha (conductor)
5:47 AM
Mozart, Wolfgang Amadeus (1756-1791)
Piano Sonata in C major (K.545)
Vanda Albota (piano)
5:58 AM
Rautavaara, Einojuhani (b. 1928)
Canticum Mariae virginis
Jutland Chamber Choir, Mogens Dahl (director)
6:06 AM
Wieniawski, Henryk (1835-1880)
Concerto for violin and orchestra No.2 in D minor (Op.22)
Bartlomiej Niziol (violin), Sinfonia Varsovia, Grzegorz Nowak (conductor)
6:30 AM
Suk, Josef (1874-1935)
Serenade for string orchestra (Op.6) in E flat major
BBC National Orchestra of Wales, James Clark (conductor).
Last on