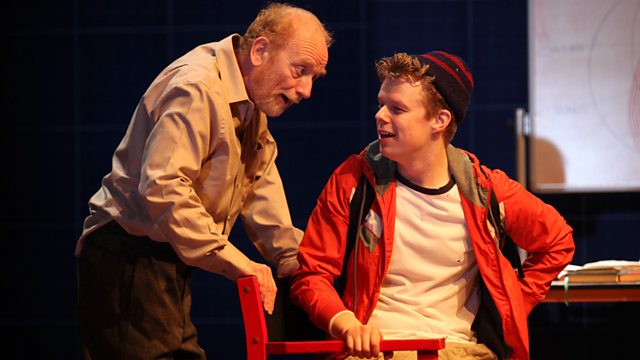 Corporations, A Life of Galileo, I Wish, Mundanity
Listen in pop-out player
On the day that Barclays boss Anthony Jenkins pledges to transform the bank and rebuild its reputation after a series of damaging events, Night Waves examines one of the most important institutions of the modern world - the corporation. Bringing together Professor Colin Mayer - whose new book claims they are failing us - and Will Hutton, Chair of the Big Innovation Centre at The Work Foundation; Philip discusses why today's corporations have become public enemy number one and how trust can be restored.
Playwright Mark Ravenhill talks about translating Bertolt Brecht's play A Life of Galileo for the Royal Shakespeare Company, the importance of looking at plays from the past, and why he would encourage young playwrights to venture out of London to Paris and Berlin.
I Wish is the latest film from Japanese screenwriter and director Hirokazu Koreeda (Still Walking, Nobody Knows). Set against a backdrop of modern day Japan, the story centres on two young brothers who believe they can harness miracles at the point where two new bullet trains pass each other at top speed. Film critic and historian Ian Christie assess the film and the work of Hirokazu Koreeda.
The artist Mark Leckey is about to open a new show called The Universal Addressability of Dumb Things which brings together a disparate collection of objects, oddities and artworks. He claims that the status of the object is changing and that despite the rise of digital and virtual technology the pleasure and magic of "things" is becoming more potent. To discuss the importance of objects and their fetishisation, Philip Dodd and Mark Leckey are joined by psychoanalyst Susie Orbach and paraphernalia enthusiast Steve Connor.
Produced by Ella-mai Robey.
Last on
Why Are Corporations Failing Us?
A Life of Galileo
Mark Ravenhill speaks about his latest production A Life of Galileo showing at the Swan Theatre, Stratford-upon-Avon 31st January - 30th March 2013
I Wish
Ian Christie reviews the latest film from director Hirokazu Koreeda, I Wish, rated PG and showing in cinemas now