Simon Beaufoy; Rokia Traore and Salif Keita; novelist John Green
Listen in pop-out player
With Kirsty Lang.
Sixteen years ago a small British film, set in Sheffield, about a group of redundant steelworkers who decide that stripping could be a way out of their problems, became an international hit. As The Full Monty makes its stage debut, the writer Simon Beaufoy talks to Kirsty about why he wants to turn a celluloid success into theatre gold.
The first artist to be announced for this year's Glastonbury festival was singer Rokia Traore from Mali. And in an intended act of solidarity with the war-torn country, Malian bands will open the Pyramid stage each day of the festival. Kirsty talks to Rokia Traore, and to Salif Keita, one of the earliest Malian performers to become an international star, about their new albums and the role of musicians in Mali now.
The bestselling New York author John Green's latest novel The Fault In Our Stars has attracted a great deal of attention, because it deals with a young girl suffering advanced stages of cancer yet manages to be a darkly humorous read. John Green discusses the background to the novel, which came to him while working as a chaplain in a children's hospital, and how he found the voice of the protagonist, Hazel.
Producer Ellie Bury.
Last on
Rokia Traoré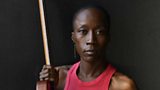 Copyright: Franck Socha
Featured in...
Magazine programme on the worlds of arts, literature, film, media and music.