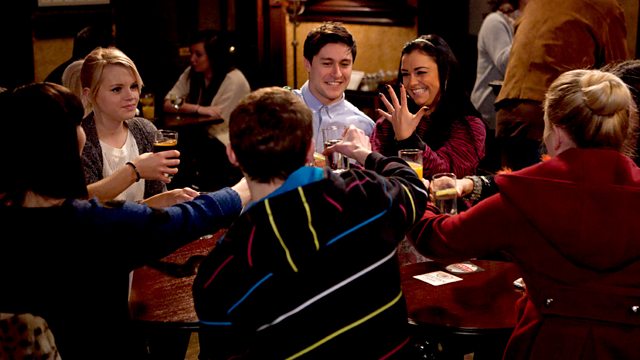 08/02/2013
Zainab's stricken by Masood's declaration and kisses him desperately. Masood passionately responds then abruptly pushes her away. Hurt, Zainab runs upstairs and starts to pack. She rages that Masood's ripping the heart out of the family they've worked so hard for and hasn't fancied her in years. Masood doesn't understand why she's fighting so hard for them - she never says she loves him. Zainab cries - she's still the same girl she once was inside - and protests not all couples are happy. Masood comforts her but insists he deserves happiness, recalling when Zainab was away he got to be himself, without her lists and orders. Masood's mind is made up – he doesn't want this anymore. Resigned, Zainab books plane tickets for her and Kamil to Pakistan that night. Devastated they're going so far away, Masood hugs Kamil goodbye, telling him he's going on an adventure. Tamwar's angry and pleads with them to make things work. Zainab apologises for her past behaviour to him and swears she is proud of him – he's a man now. Zainab and Masood bid a final goodbye. Zainab kisses Masood tenderly, vowing she's always loved him. Masood, Tamwar and AJ watch as the taxi bears Zainab and Kamil away from the Square into the night.
Fatboy persuades Tamwar to have a night off for Tyler and Whitney's engagement party. Dot joins in with a game of 'I have never'. On a budget, Dot orders lime and sodas for everyone. She and Poppy leave early before their hot water goes off.
After encouragement from Carol, Bianca attends Whitney and Tyler's engagement party. Poppy notices Fatboy always jokes about marriage.
Lucy confides in Tamwar she had a doctor's appointment earlier about a lump and is awaiting the results.
Last on
Credits
| Role | Contributor |
| --- | --- |
| Zainab Khan | Nina Wadia |
| Masood Ahmed | Nitin Ganatra |
| Tamwar Masood | Himesh Patel |
| AJ Ahmed | Phaldut Sharma |
| Whitney Dean | Shona McGarty |
| Tyler Moon | Tony Discipline |
| Bianca Butcher | Patsy Palmer |
| Carol Jackson | Lindsey Coulson |
| Tiffany Butcher | Maisie Smith |
| Lucy Beale | Hetti Bywater |
| Denise Fox | Diane Parish |
| Arthur 'Fatboy' Chubb | Ricky Norwood |
| Poppy Meadow | Rachel Bright |
| Dot Branning | June Brown |
| Abi Branning | Lorna Fitzgerald |
| Jay Mitchell | Jamie Borthwick |
| Lauren Branning | Jacqueline Jossa |
| Alice Branning | Jasmyn Banks |
| Executive Producer | Lorraine Newman |
| Director | Michael Owen Morris |
| Writer | Carey Andrews |