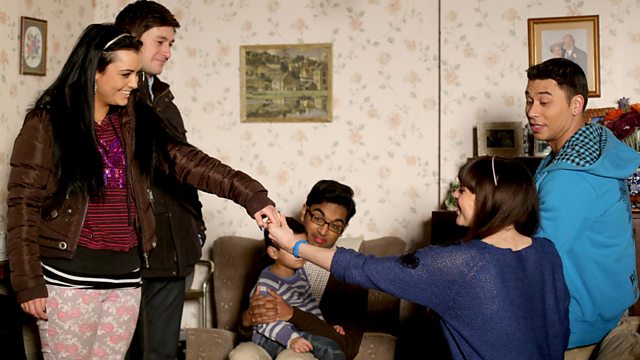 07/02/2013
After a sleepless night, Masood repeats that nothing happened with Ayesha but can't deny considering it. Zainab sets into cleaning mode, determined to de-clutter their lives. Masood helps. As they clean, Zainab suggests a role playing game; they laugh as they impersonate each other but the game turns sour as deep seated insecurities are revealed. They unearth old family photographs and Zainab realises all four children have never been together. Zainab finds a tie of Yusef's; Masood apologises for letting him hurt her. Later, with the house organised, Zainab's determined for a fresh start. They realise they've unconsciously divided everything up. Masood thinks Zainab doesn't take any notice of him or let him do things his own way; he wanted to marry her to make everything how it once was – before Yusef and Jane – but is convinced Zainab doesn't love him. Although Zainab pleads she forgives him for keeping Ayesha's crush a secret and promises to change, Masood sadly declares there won't be a wedding.
Concerned by Zainab's frenzied cleaning, AJ turns to Denise. She's frustrated to later find him drinking his troubles away in the Vic with Kat and Roxy. She interrogates him, wondering why he's drunk so early in the day, but gives up when he won't be serious. AJ worries to Alfie about Masood and Zainab, who tries to reassure him that all couples row. AJ passes out drunk in the Vic. Kat, Bianca and Roxy bring him home.
Tamwar's worried about his parents' marriage and unenthusiastic when Tyler and Whitney announce their engagement and plan an impromptu party. Dot sympathises with Tamwar and draws on her own marriage experience - there isn't much he can do except have hope. Tamwar heads home with Kamil and listens on the stairs as Zainab and Masood argue.
Last on
Credits
| Role | Contributor |
| --- | --- |
| Zainab Khan | Nina Wadia |
| Masood Ahmed | Nitin Ganatra |
| AJ Ahmed | Phaldut Sharma |
| Tamwar Masood | Himesh Patel |
| Denise Fox | Diane Parish |
| Bianca Butcher | Patsy Palmer |
| Kat Moon | Jessie Wallace |
| Alfie Moon | Shane Richie |
| Roxy Mitchell | Rita Simons |
| Whitney Dean | Shona McGarty |
| Tyler Moon | Tony Discipline |
| Poppy Meadow | Rachel Bright |
| Arthur 'Fatboy' Chubb | Ricky Norwood |
| Dot Branning | June Brown |
| Executive Producer | Lorraine Newman |
| Director | Michael Owen Morris |
| Writer | Pete Lawson |