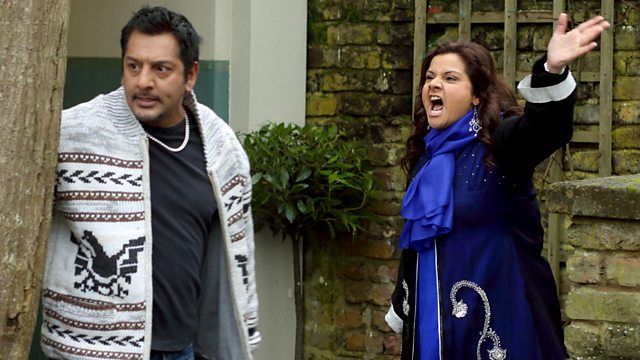 04/02/2013
After a weekend of the silent treatment from Zainab for missing the Imam's visit, Masood promises to finish the water feature for a grand unveiling followed by a family dinner. He toils all day and proudly shows Zainab two 'Z' and 'M' mosaic tiles for the fountain. Ayesha's unimpressed. Later, Zainab unveils the water feature to a gathered crowd; she's mortified when it spouts pink bubbles, to everyone's amusement. Zainab discovers Tiffany and Morgan added bubble bath to the fountain and chases them home. Bianca turfs her out. Humiliated, Zainab blames Masood for making them a laughing stock – he's failed again. Masood explodes that Zainab's obsessed with others' opinion yet didn't bother asking why he didn't attend the Imam's visit. When Zainab still won't listen, desperate Masood grabs a sledge hammer and smashes the water feature to bits.
Abi needs £50 for a school research trip to York University but Cora's already spent the money Tanya left. Battered and bruised, Max avoids Abi and Lauren. Ava advises Abi she saw Max leaving the B&B. Abi heads over only to discover Max in bed with Kirsty.
Joey's still suspicious Michael is taking advantage of Alice and suggests she find a more challenging job. Alice shows off a new scarf bought from a £50 bonus from Michael. Joey demands she quit. Alice refuses.
Tyler tells Alfie that he and Whitney are engaged, but Whitney doesn't want it announced until they have their own place. Tyler rushes to the Vic but isn't in time to stop Alfie accidentally telling Bianca and Carol.
Lucy's preoccupied. Unable to confide in her friends, she confesses to Denise she found a lump whilst in the shower.
Dexter nicknames Abi 'Shrimp'. Dexter and Jay plan to raise Abi's trip money in a poker game at the Arches but lose to AJ.
Last on
Credits
| Role | Contributor |
| --- | --- |
| Zainab Khan | Nina Wadia |
| Masood Ahmed | Nitin Ganatra |
| AJ Ahmed | Phaldut Sharma |
| Ayesha Rana | Shivani Ghai |
| Bianca Butcher | Patsy Palmer |
| Morgan Butcher | Devon Higgs |
| Tiffany Butcher | Maisie Smith |
| Carol Jackson | Lindsey Coulson |
| Whitney Dean | Shona McGarty |
| Tyler Moon | Tony Discipline |
| Alfie Moon | Shane Richie |
| Abi Branning | Lorna Fitzgerald |
| Lauren Branning | Jacqueline Jossa |
| Jay Mitchell | Jamie Borthwick |
| Dexter Hartman | Khali Best |
| Ava Hartman | Clare Perkins |
| Max Branning | Jake Wood |
| Kirsty Branning | Kierston Wareing |
| Joey Branning | David Witts |
| Alice Branning | Jasmyn Banks |
| Michael Moon | Steve John Shepherd |
| Lucy Beale | Hetti Bywater |
| Denise Fox | Diane Parish |
| Patrick Trueman | Rudolph Walker |
| Executive Producer | Lorraine Newman |
| Director | Michael Owen Morris |
| Writer | Pete McTighe |