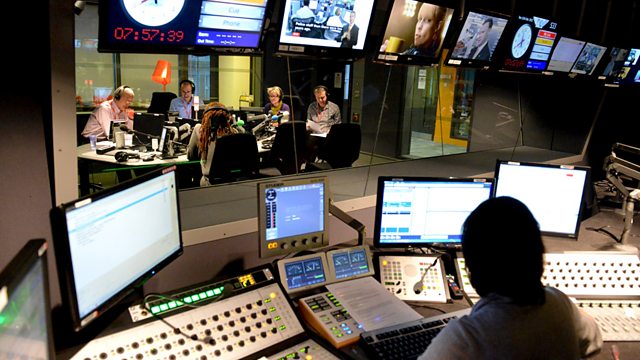 14/02/2013
Morning news and current affairs with John Humphrys and Justin Webb, including:
0751
Ofsted's director of schools policy, Michael Cladingbowl, explains that the regulator has issued a report that says there is not enough strenuous, physical activity in many of England's school PE lessons. Baroness Sue Campbell, chair of the Youth Sport Trust, outlines what need to be done.
0810
A former NHS manager has broken the terms of his secret compromise agreement to speak out about his concerns over patient safety which he claims led to his dismissal. Former health secretary, Conservative MP Stephen Dorrell, discusses whether there is a climate of fear inside the NHS.
0816
It is two years since protesters occupied the Pearl roundabout in the centre of the capital of Bahrain, Manama, and there are reports this morning that a teenage protester has been shot dead in Bahrain. Frank Gardner, the BBC's security correspondent outlines the current political state in the country.
0819
The BBC's arts correspondent Rebecca Jones reports that the National Theatre's team that created War Horse are reuniting with a version of A Midsummer Night's Dream, in Bristol.
0829
Stephanie Flanders, the BBC's economics editor, and Kate Barker, former member of the Bank of England's Monetary Policy Committee, analyse the Office for National Statistics' findings that the average British worker is nearly 40% less productive than their US counterpart.
Last on
A rundown of stories from Thursday 14 February including programme highlights and comment.