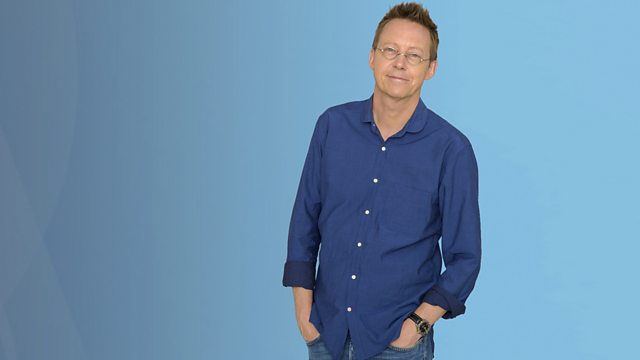 Nigel Barden
Join Simon Mayo and chef Nigel Barden for another Foodie Thursday! Plus there's a brand new confession for the collective's conscience!
Rebecca has the big money stories, Matt has the sports news and Bobbie Pryor updates the travel.
Last on
Nigel's Grilled Venison Recipe
Grilled Venison Haunch with Farro Salad & Green Peppercorn Dressing
From Salt Yard, Food & Wine from Spain & Italy (Piquillo Publishing)
By Ben Tish, Simon Mullins & Sanja Morris
 
Serves 4 as a main or 6-8 as a tapa
 
Prep time: 30 mins
Cooking time: 30 mins
 
Ingredients
 
For the salad:
4 venison steaks
120g farro (or couscous, pearl barley or any grain you like)
4 artichokes in oil
250g cherry tomatoes
180g piquillo peppers (more often available in jars)
400g tin chickpeas, drained
small handful mint leaves
olive oil for cooking
sea salt & black pepper
 
For the peppercorn dressing:
3 tsp green peppercorns (fresh is ideal, try Chinese supermarkets, or otherwise widely available in jars)
1 clove garlic, peeled, chopped
3 tsp coriander, chopped
3 tsp parsley, chopped
1 tsp lemon zest
½ tsp red chilli, chopped
50ml Moscatel vinegar or white balsamic vinegar
100ml extra virgin olive oil
 
Method:

1.    Soak the faro overnight (unless using a quick cook variety & follow instructions on packet).
2.    Place the farro in a saucepan & cover with cold water. Bring to the boil & then simmer for about 20 mins until the farro is soft & tender.
3.    Drain well & rinse under cold water for a few mins to get rid of the starch.  Put to one side.
4.    For the dressing, use a pestle & mortar to crush the green peppercorns & garlic to a paste.
5.    Transfer the paste to a bowl & mix in the rest of the ingredients, combining well.  Reserve.
6.    Heat a grill pan or a large sauté pan to maximum heat.
7.    Rub the venison steaks with olive oil & season. 
8.    Cook for 4 mins on each side or until the outside is seared & the inside is medium rare.
9.    Let the steaks rest for 5 mins before slicing into strips.
10. To assemble the salad, quarter the artichokes, halve (or quarter if large) the cherry tomatoes & cut the piquillo peppers into strips. 
11. Place in a large mixing bowl with the other salad ingredients, including the slices of venison.
12. Season with salt & pepper & add the green peppercorn dressing.
13. Combine everything together & then divide between serving bowls & serve.
A Tempranillo from Ribero del Duero in Spain will have the power & flavour to match fantastically.
Nigel's Top Tips
Oil your meat, not your pan.
This dish should be served while the venison is warm, or at least room temp.
Soark the farro overnight before cooking in salted boiling water, unless using quick cook farro.
Chef Vatteroni says, "use good quality cooked chickpeas (Spanish) for a creamer texture.