Sex and relationships education; The Rt Hon Theresa May MP
Stella Creasey and Amber Rudd discuss why sex education should include relationships education. The Right Hon. Theresa May M.P. on being Home Secretary, being a woman and being in power. Lucy Boyd Cooks the Perfect Arrabiata Sauce. Men who are falsely accused of abuse after relationships break down. And we hear from women starting out as stand up comics later on in life.
Last on
Lucy Boyd shares a dish first taught to her by her mother and River Cafe chef, Rose Gray.
Sex and relationship education in schools
A cross party group of MPs including Labour MP Stella Creasy and Conservative MP Amber Rudd will debate a motion protecting future generations from violence against women and girls. They are calling on the Government to introduce statutory provisions to make personal, social and health education, including a zero tolerance approach to violence and abuse in relationships, a requirement in schools. Stella and Amber join Jenni to explain their reasons.
Cook the Perfect...Arrabiata Sauce
Lucy Boyd is a chef, a head gardener of Michelin-starred café Petersham Nurseries and daughter of Rose Gray, founder of the famous River Café restaurant. Rose inspired in her a love of cooking with simple fresh seasonal ingredients, and she has combined her passion for gardening and cooking to write her first cookery book 'Kitchen Memories'. She joins Jenni to show how to Cook the Perfect Arrabiata Sauce, the very first dish Rose taught her to make.
Kitchen Memories is published by HarperCollins on 14 February 2013.
Shared Parenting - falsely accused of violence
Last week the proposed Children and Families Bill was given its first reading in the House of commons. It unveiled plans to give both parents a legal right to be involved in their children's lives as long as it's is safe and consistent with the child's welfare. Over the past few weeks we've  heard about the proposals and concerns from Sir Alan Beith MP, the different way parents negotiate their arrangements for shared parenting, and the experiences of children who were raised jointly. We've also looked at how children are protected by the courts when one parent is abusive. But what happens when a false accusation of violence or abuse means access to your child is denied? Jenni hears the story of one father 'Michael' and talks to Liz Edwards Chair of Resolution.
Rt Hon Theresa May MP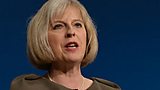 Home Secretary Theresa May has been named by the Power List judges as the most powerful woman in politics in Britain today. Overall she was only pipped to the number one slot by Her Majesty The Queen. Today Jenni talks to the woman who holds one of the most challenging jobs in government and asks, what does power mean to her?
Silver Comedy
Heard the gag about the old ones being the best?  Jenni talks to two silver comedians – that is women over 55 - who have started doing stand-up later in life.  Rosemary Gregory and Maxine Jones explain what inspired their career change. 
Silver Comedy's Silver Stand Up of the Year 2013 Competition Final takes place on 14 February 2013 at Dave's Leicester Comedy Festival.