Last on
A' Chaitheamh ann an Romàinia
"Thòisich mi a' gal.  Cha b' urrainn dhomh a chreid... Bha dùil agam gu robh mi a' dol a bhàsachadh."
Bha an dearbhadh gu robh e a' fulang leis a' Chaitheimh na bhuille mhòr do Alexandru Hamcer.  Thàinig buille eile nuair a thòisich a bhràthair beag a' fulang leis a' ghalar cuideachd.   Tha Alexandru gu mòr dhen bheachd gur ann bhuaithesan a fhuair e an TB.   Fhuair Alexandru leigheas fad mhìosan.  Nuair a bha dùil aige gu robh e air a' chùl a chuir ris a' Chaitheimh, fhuair e a-mach gu robh e a' fulang le gnè dhen ghalar nach gabh a leigheas le mòran dhrogaichean; TB XDR.  Ann an Romàinia, an dùthaich gam buin Alexandru, 's e dìreach 10% de dh'euslaintich air a bheil TB XDR a tha a' faighinn seachad air.
'S ann an Romàinia a tha an àireamh às àirde de chùisean de ThB san Aonadh Eòrpach.  A h-uile latha tha an galar a' tighinn air 77 duine.  Tha ceathrar a' bàsachadh leis.  Tha Eòrpa ag aithris à Bhucharest faic dè a thathas a' dèanamh gus smachd fhaighinn air a' ghalar.
Tuberculosis in Romania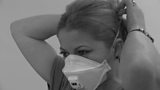 "I started to cry.  I could not believe it… I thought I was going to die."
Hearing that he had contracted tuberculosis was a severe blow for Alexandru Hamcer.  He received another one when his brother became ill with the disease.   Alexandru firmly believes he gave his brother the disease.   Alexandru received months of treatment.   When he thought he was free of the illness he discovered he was suffering from extensively-drug resistant tuberculosis (XDR TB).  In Romania, where Alexandru lives, there is only a 10% cure rate for XDR TB.
Romania has the highest number of TB cases in the EU.  Each day 77 people become ill with it.  Four die.  Eòrpa reports from Bucharest to see what's been done to control the disease.
Credits
| Role | Contributor |
| --- | --- |
| Producer | Rebecca MacLennan |
| Producer | Rebecca MacLennan |