APT Action on Poverty
Margaret Sentamu presents the Radio 4 Appeal for APT Action on Poverty. Reg Charity:290836
To Give:
- Freephone 0800 404 8144
- Freepost BBC Radio 4 Appeal, mark the back of the envelope APT Action on Poverty.
Last on
APT ACTION ON POVERTY
APT transforms the lives of thousands of poor and vulnerable people by helping them to help themselves.  We give them the skills to work in or start up their own small enterprises so that they can generate an income for their basic needs such as food and medicine and education for their children. APT also promotes social change so that disadvantaged people, such as disabled men and women and those affected by HIV/AIDS, can participate fully in society and become useful members of their communities.The impact of our work is long-term, restoring dignity and building self-reliance.
Cecilia in her hairdressers shop
Eunia an HIV widow in Kenya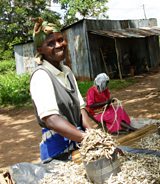 Eunia Anyango, an HIV positive widow with 5 children, has the skills to help her sell greater quantities of fish and find new markets.
Douglas Ombati in Kenya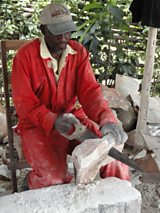 Douglas Ombati, a freelance carver of soapstone. Since 2010 APT has transformed working conditions and negotiated fairer prices for workers in the soapstone industry - quarry owners, miners and carvers.
Mrs Dapata in Uganda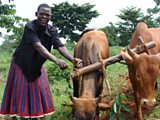 Mrs Dapata lives with her husband and 7 children in Kayinja Village in Eastern Uganda. They and four other families received four oxen, an ox plough and training enabling them to open the land and plant crops giving them nutritious food and raise an income for school fees.
Join our Facebook Community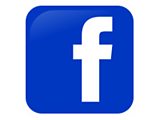 The place where you can find out more about the charities you support and ask them how they are spending your donations.