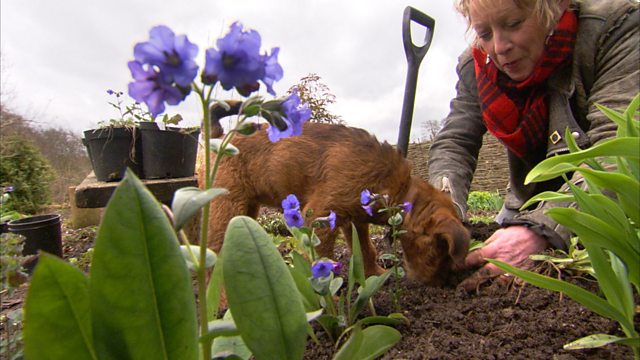 It is spring and changes are afoot in the garden.
Carol begins the season by clearing away the last of the winter debris. All pruning needs to be done before the end of March and she celebrates the new season by sowing her first seeds. An expert hedge pruner comes to cloud-prune Carol's box hedging but work is interrupted by a nesting hedge sparrow.
Down in the woodland garden, snowdrops have given way to celandines, violets and primroses. In May, there is a surge of new growth. It is a time for cow parsley and blossom. Although the seedlings need pricking out, the frosts are now over and the garden's renewal is underway.
Last on
Cloud pruning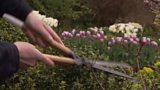 'Nawaki' is the Japanese art of cloud pruning. Jake Hobson, an expert in the art, sculpts Carol's serpentine box hedge in the Hot Borders, to reflect and echo the soft curves of the landscape beyond the garden.
Seed sowing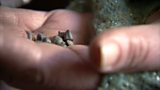 For many gardeners there's an excitement about sowing the first seeds of the year. Each tiny seed holds within it all the hope for the year yet to come. Carol starts off her seed-sowing calendar by sowing Nicotiana, a fine seed, best sown into trays. 
Larger seeds like Cerinthe, she sows into individual cells or modules, that way they do not need to be pricked out but will develop their own individual root systems, so can be easily potted on.
RHS Seed sowing advice
Pruning shrubs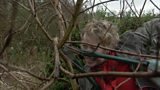 Spring means pruning time for many shrubs. Summer flowering shrubs like, Buddleja, Fuchsia, Cotinus, and shrub roses will all benefit from a good prune. 
These shrubs flower on new seasons growth, so pruning early will allow enough time for the new growth to mature to ensure good flowering. Pruning early also allows you to see what you are doing before buds begin to unfurl.
Magnolias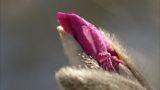 Whilst it is the smaller herbaceous plants like primrose, celandine, and violets that gently announce the presence of spring, it is the magnolias in Carol's garden that shout it out loud. Carol has two in her garden, Magnolia x loebneri 'Leonard Messel' and Magnolia stellata, both have been awarded the RHS prestigious Award of Garden Merit (AGM) and both would be suitable for growing in a smaller garden.
Spring is a perfect time to plant trees and shrubs, so if you feel your spring garden is in need of a little pep then a magnolia might be just for you. And, if space is limited, Magnolia stellata can be successfully grown in a container.
Pulsatilla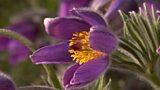 The raised bed in Carol's garden is the perfect place for her pasque flower, Pulsatilla vulgaris, to thrive. Whilst looking rather 'exotic' it is in fact a UK native, a lowland alpine, found growing on chalky grasslands and is a member of the buttercup family. 
It prefers an open sunny aspect, does not like to be crowded by other plants, and needs a very free draining soil. With spring now peeping around the corner this is a plant well worth looking out for. If your soil is heavy then add lots of grit or try growing it in an alpine trough.
Credits
| Role | Contributor |
| --- | --- |
| Presenter | Carol Klein |
| Executive Producer | Gill Tierney |
| Executive Producer | Sarah Moors |