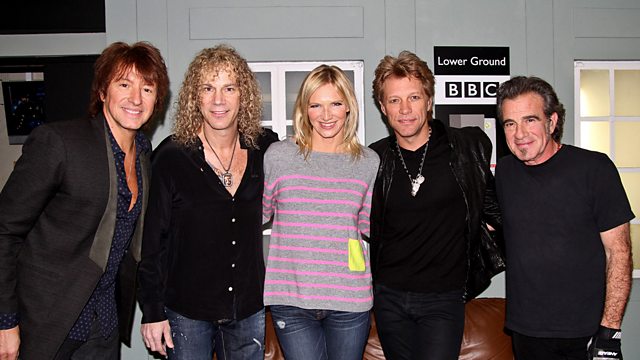 Bon Jovi
Jo Whiley presents Bon Jovi live In Concert from the intimate BBC Radio Theatre inside Broadcasting House
They'll be playing some of their stadium-filling biggest hits alongside an early taster of their new material.
Last on
#R2BonJovi
On Thursday 24 January, Radio 2 welcomed Bon Jovi to the BBC Radio Theatre for a very special Radio 2 In Concert performance. The band spoke to Jo Whiley and answered listeners' questions before playing hits and selections from their new album, What About Now.
Thanks for watching / listening / tweeting / singing along. You can watch the whole performance, listen to the soundcheck and see Jo Whiley's interview with Jon Bon Jovi right here:


This one's a massive fan favourite... Dead Or Alive brings tonight's In Concert to an anthemic close. What did you think? Email your review of the gig to inconcert@bbc.co.uk

Of course they're coming back for an encore! Kicking off with Army Of One

And that's the last song... (or is it?)
See more live updates