Bill Murray gets presidential in Hyde Park on Hudson, Denzel Washington takes to the skies in Flight, and Sylvester Stallone is out for revenge in Bullet to the Head.
Last on
Review of Flight - Film of the Week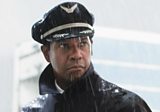 Claudia: It's all about Denzel Washington, he's just so magnificent in this. The supporting cast are great but if he was slightly off his game it wouldn't have been the film that it was. I thought it was excellent from the beginning all the way to the end. My tiny gripe about it is that about half way through you know how it's going to end.
Danny: If like me you're a nervous flyer then don't worry because the plane crash in Flight will reduce you to a babbling wreck – it puts you right in there with the screaming and the vomiting and the flying hand luggage. But once it gets back down on to the ground it is in absolute control of itself. It moves at it's own pace and I think it turns into something which is fluent and powerful and admirably grown up. 
It's a fine performance from Denzel Washington, not because he's charismatic and magnetic and not because he's playing an alcoholic so convincingly that you can smell it on him, but because he's doing both at once. He's the key to the movie – he's what holds it together . I'm very pleased that he's up for an Oscar because the thing about Denzel Washington is that he's so good at being a film star, I think we forget how good an actor he can be. 
I didn't feel like I knew what was coming next and so I think credit to the script for that and also credit to Robert Zemeckis, who's had an interesting career, still best known for Back to the Future. He's made some pretty questionable films in the last few years but also some very fine ones, I think the most recent example being Castaway starring Tom Hanks. Flight reminds me of Castaway a little bit – it's another big mainstream Hollywood movie that is unusually honest, downbeat and smart.
Review of Hyde Park on Hudson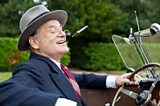 Danny: I think half the film is about the special relationship between Britain and America and I think that half does very much want to be 'the king's new speech', if you liked the king speaking last time, now he's going to be speaking again. The other half is about the special relationship between Franklin D. Roosevelt and his cousin Daisy and it's a relationship that moves very quickly from them taking tea as virtual strangers to parking up in a field, sitting there while she manually delights him. Now that's the scene that for me, hung over the rest of the movie, but that's not the problem. The problem is for me a movie or a story should be about the most pivotal, momentous, important events in any character's life and this feels so slight and so flimsy that you would sneeze in the cinema and the whole thing would fall apart.
Bill Murray is doing what Bill Murray always does – he's this wise old scoundrel, and I and a lot of other people would very happily watch Bill Murray in absolutely anything, I just wish the movie didn't feel the need to test that out so thoroughly. I think there are likeable things – when the British Royals come in there are funny scenes. Olivia Colman playing the Queen Mother is like a meeting of National Treasures. There is a scene with Samuel West and Bill Murray very near the end where, very unexpectedly, suddenly it all slots into place and it's a beautiful joyful note-perfect scene. I was surprised how dull sex and war can be
Claudia: Slight is a nice way of putting it. Bill Murray's had a kicking, people saying he was just phoning it in, but I don't think he was bad. I love Samuel West, Olivia Colman, Olivia Williams – I think the cast are all excellent. It just feels like you can't grab it. It feels like you can't grab hold of the story, it felt a little dull. 
Review of Bullet to the Head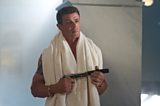 Danny: Bullet to the Head is a throwback to a time before buddy movies became bromances. It's built around bruising fight scenes and Stallone's one liners. It exists in that forgotten world where every bad guy looks like a roadie in a Metallica tribute band, files of evidence actually have the word 'evidence' printed on them in red capital letters, and dodgy lawyers go back home at the end of the day and have masked balls filled with bowlfuls of drugs and naked women. I have missed that world and I am not embarrassed to say I enjoyed Bullet to the Head. In real life, lawyers go to farmers' markets and watch Borgen. I think this version is more entertaining. 
The double act doesn't work here but I won't have a word said against the director Walter Hill – the director of 48 Hours, The Warriors. This film is chock full of clichés, but Walter Hill invented all those clichés.
Claudia: I don't miss that world. The world you're talking about is called the eighties. I didn't like the eighties, I was even more orange then than I am now, wore a lot of bangles and didn't wash my hair. I don't want to go back there, I don't want to go back and live in a Whitesnake video, which basically is what Bullet to the Head is. It is genuinely moronic. There's gratuitous nonsensical violence – the one-liners aren't funny, the acting around him was painful. I didn't like it.
Review of Antiviral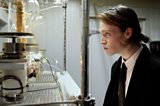 Danny: If any other young director had made a movie that was so clearly heavily influenced by the early body horror movies of David Cronenberg, you'd be waiting for a lawyer's letter somewhere in the post. But the director here is his son, Brandon Cronenberg so there won't be a lawyer's letter and now we all know what the Cronenberg's discuss round the breakfast table. The trick in the early David Cronenberg movies was that as well as the grotesque orifices, there was also a lot of satire and a lot of smart ideas in the mix and I think that's partly true with Antiviral. There are smart ideas here, and I think the 'celebrity cell steak' is something that is going stay with me for quite a while. I think the problem is that it's unnaturally enlarged beyond it's rightful form. It started as a short called Broken Tulips a few years ago and it's one of those ideas where you think it's probably best captured in 15 - 20 minutes. After about an hour you do feel it runs out of ideas.
Claudia: I know I've just been horrible about Sly Stallone, who I found almost unwatchable in Bullet to the Head but Caleb Landry Jones here is brilliant. He is totally compelling. This film is long but it starts very interestingly and I couldn't take my eyes off of him. 
Credits
| Role | Contributor |
| --- | --- |
| Presenter | Claudia Winkleman |
| Presenter | Danny Leigh |
| Series Producer | Jayne Stanger |
| Executive Producer | Basil Comely |