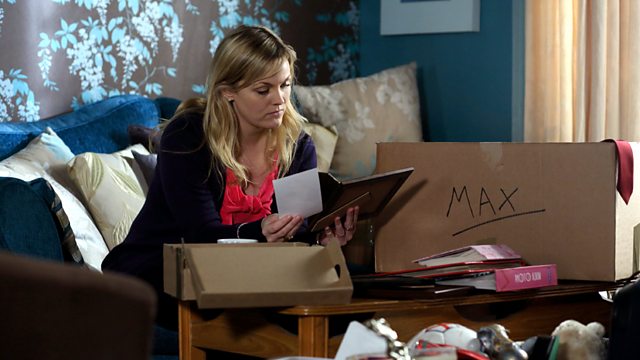 28/01/2013
When Zainab complains to Carol about her broken gate, Carol says the council will pay. Zainab's outraged – they'll improve their home and show everyone they're not council tenants! Masood says he'll fix the gate, but Zainab's thinking bigger... To Masood's annoyance, she buys a thousand pound water feature! Zainab says they can afford it – she must have got the Regional Manager job as Denise didn't! They hug. Ayesha watches. Later, Zainab discovers she didn't get the job, but doesn't tell Masood. Masood's keeping something from Zainab too: Ayesha doesn't want to marry Rasheed – or anyone – and he's been lying to cover for her.
With Cora's help, Tanya's physically clearing Max from her life, but Max is sick of Cora meddling. When Cora leaves for work, Max harasses Tanya until she lets him in. He tells Tanya they love each other; they need to make it work. Abi returns and Tanya tells Max to leave, but they've arranged to meet later. Reluctantly, Jack lets Max use his flat for their dinner, but Cora advises Tanya not to go. Lighting candles and buying wine, Max is determined tonight will go well, until he discovers Tanya's gone.
Sharon leaves Jack to take Dennis to school, thinking Lexi's ill. Just teething, Sharon goes to work, shouting at Bianca to do a better job. Jack tries to show Sharon some pictures Dennis has drawn, but Sharon's preoccupied. Bianca says the pictures explain why Dennis hit Morgan. Sharon sacks Bianca. She finally looks at Dennis's drawings to discover she's not in them. Sharon realises she's been neglecting Dennis.
Denise feels old. It's her birthday tomorrow and Kim and Ian are mocking her. She's down about the job too. Feeling bad, Ian invites her for dinner. Denise agrees.
Lola's asked to say goodbye to Lexi, once again, before Phil takes her to Cornwall.
Last on
Credits
| Role | Contributor |
| --- | --- |
| Max Branning | Jake Wood |
| Abi Branning | Lorna Fitzgerald |
| Lauren Branning | Jacqueline Jossa |
| Cora Cross | Ann Mitchell |
| Tanya Cross | Jo Joyner |
| Zainab Khan | Nina Wadia |
| Masood Ahmed | Nitin Ganatra |
| AJ Ahmed | Phaldut Sharma |
| Phil Mitchell | Steve McFadden |
| Lola Pearce | Danielle Harold |
| Billy Mitchell | Perry Fenwick |
| Sharon Rickman | Letitia Dean |
| Jack Branning | Scott Maslen |
| Dennis Rickman | Harry Hickles |
| Denise Fox | Diane Parish |
| Kim Fox | Tameka Empson |
| Ian Beale | Adam Woodyatt |
| Carol Jackson | Lindsey Coulson |
| Bianca Butcher | Patsy Palmer |
| Executive Producer | Lorraine Newman |
| Director | Richard Lynn |