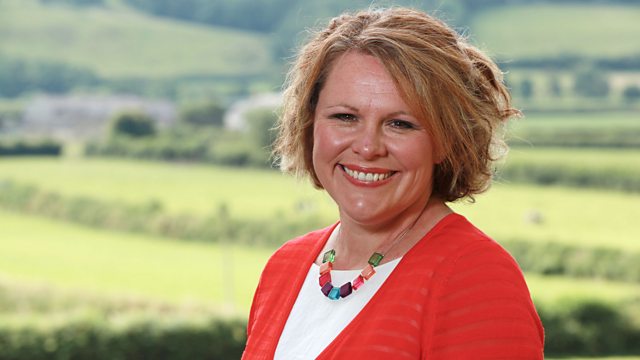 27/01/2013
The rural news magazine for those who live and work in the Welsh countryside, presented by Rachael Garside.
Last on
Poultry, Mackerel, Wildlife Hotspots and Bird Cakes
Struggling prices, an oversupply of free-range eggs and a proposed EU ban on beak trimming - just some of the issues causing concern for Welsh poultry farmers. The National Farming Union of Wales' Poultry Board is holding it's annual Conference this week and according to the board's Chairman, Claire Morgan, cheap imports and EU inspired legislation could have far reaching implications for UK producers. It's been a steep learning curve for Claire since she's gone from a few hens pecking around the farmyard to a large scale free-range egg business in just a little over two years.
For years, it's been trumpeted as a popular sustainable fish, renowned for its health benefits and favoured by celebrity chefs. But now we're being told Mackerel is no longer an environmentally friendly choice for a regular fish supper. For some the warning has been premature and damaging to the industry, there was talk of "Mackerel Wars" and by-catches and catch allowances. So is it a fish we can eat with a clear conscience?  
In recognition of the importance of vernacular or local buildings the National Trust has recently restored two crofters cottages on the Llyn coast and they are looking for a tenant to live in one of them, to tend the land in this idyllic location.
New research reveals that protected areas are a crucial asset in providing safe havens for wildlife during climate change. According to the Countryside Council for Wales' Senior Climate Change Advisor, further climate warming will result in a greater need for the sites to act as safe havens, helping species move as they head north in search of a cooler climate.
The aim is to 'bring a 12th Century Castle back to life' - and building work is now well underway to restore Cardigan Castle. The ambitious scheme has secured twelve million pounds of funding, making it the largest heritage project in Wales. Plans include a museum, workshops and accommodation for the site of the castle, reputed to be the first one to be built by the Welsh Princes.
The freezing temperatures that we've been experiencing across Wales recently are likely to drive more birds into our gardens in their search for food. So the Royal Society for the Protection of birds are hoping that we spot plenty of of our feathered friends as millions of people take part in what has become the world's largest bird survey - the Big Garden Birdwatch weekend. What you see will depend to a large extent on what food is in your garden and the RSPB Conwy reserve has been training local children how to make nutritious bird cakes.