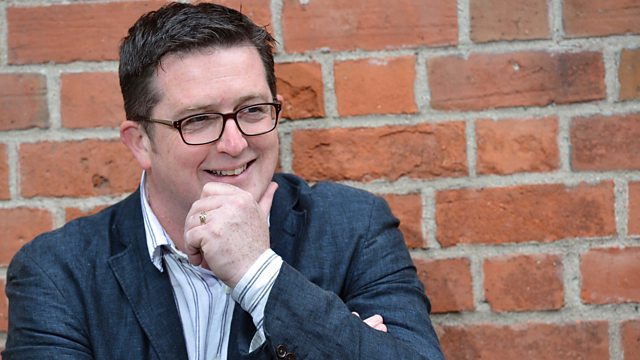 26/01/2013
Join John Toal for big interviews, fascinating people and great craic, plus the best in home-cooked food with recipes from kitchen queen Paula McIntyre. Including News.
Last on
Creamy Chicken Sweet Corn Soup & Creamy White Chocolate Rice Pudding with Cherries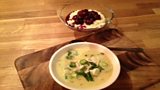 CREAMY CHICKEN AND SWEET CORN SOUP
4 chicken drumsticks
4 chicken thighs
2 sticks celery, roughly chopped
4 medium onions, peeled and chopped
2 cloves garlic, peeled and chopped
1 tablespoon cooking oil
1 litre water
100ml cream
2 tins sweetcorn
1 chicken stock cube
Handful chopped parsley
4 chopped scallions
Heat the oil in a large saucepan, over high heat and add  the chicken, skin side down. Cook until golden, then seal on the other side.
Add the celery, garlic and onions and cook gently for 5 minutes or until golden and soft. Add the water and bring to the boil.
Simmer for 45 minutes or until chicken is fork tender.
Remove chicken from the pot and when cool enough, remove the meat and chop roughly.
Add the cream, sweet corn and stock cube to remaining pan and simmer for 5 minutes.
Blend and return the chicken to the pot with the scallions and parsley.
Simmer for a further minute, check seasoning and serve.
CREAMY WHITE CHOCOLATE RICE PUDDING WITH CHERRIES 
75g pudding rice
750ml whole milk
250ml cream
25g sugar
100g good quality chopped white chocolate
Place the rice, cream and milk in a pan and bring to a scald.
Simmer gently with a lid for 30 minutes.
Add the sugar and chopped chocolate and remove from heat. Stir until the chocolate has melted and serve in bowls with the cherries.
CHERRY COMPOTE
200g pitted cherries ( you can buy frozen cherries in some supermarkets which are cheaper than fresh and pitted)
Zest and juice of 1 orange
50g sugar
Splash Port ( optional)
Boil the orange zest and juice with the sugar until the liquid has dissolved.
Add the cherries and simmer for 10 minutes.
Add the port and serve on top of the rice pudding.