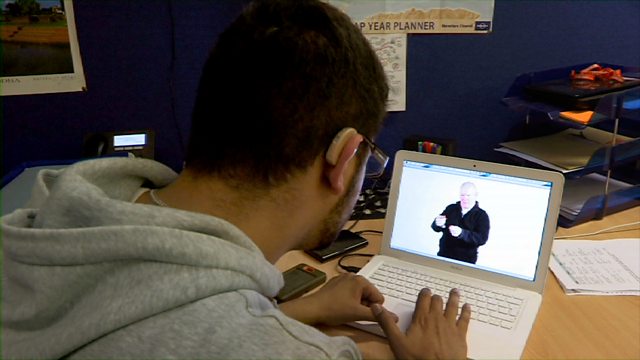 Sam Dore goes on an outing to the big screen to check out how effectively subtitles are being delivered and what you can do when there are problems.
Plus a trip up north to see preparations for an important new exhibition collating personal memoirs and 'oral' history from deaf people of Lancashire.
Last on
Cinema Access: No subtitled screening for UK release of 'Hysteria' - Sony's official response
At the beginning of this year, See Hear tried to find out what the larger cinema companies were doing to make film releases accessible to people with hearing loss.
In theory, things should have vastly improved over the last few years…However, on some occasions cinema goers are still not able to find a subtitled screening, like most recently of the film 'Hysteria'.
We invited Sony for a reply to find out why…..and here is their official response:
'.....Hysteria was not provided with subtitles for the UK release. The film had a very limited release in the UK and the costs of providing subtitles was felt to be commercially unviable for such a limited release. However Sony did confirm that the DVD of this film WILL contain subtitles.
Of course, we encourage film makers and distributors to include accessibility from the outset and to cost this into the overall film budget. Sony confirmed that Hysteria was an acquisition and not a Sony Production and so incorporating subtitles into the overall budget is not always possible."
..and Darren Sands, Technical Director at Sony Pictures Entertainment,  added: 
"…….since the birth of subtitling and audio description we have included these services on over 90% of our titles. We are working towards 100% and that's something we hope to achieve within 2013 – However there is the odd release, in this case Hysteria, (which was a late acquisition) where the budget available to cover subtitling and audio description would have left us with less than 50% to cover the marketing of the movie. A very rare occurrence I must admit.
On hearing that there was some disappointment with our decision we liaised with our Home Entertainment department who assured us that they would include English Subtitles for the Hearing Impaired on the DVD release, which I can confirm has happened.
Credits
| Role | Contributor |
| --- | --- |
| Series Producer | Sarah Tavner |
| Executive Producer | Sarah Moors |
| Presenter | Memnos Costi |