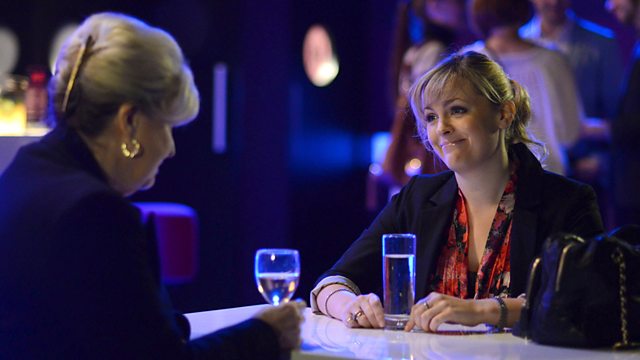 25/01/2013
Max's optimistic that Tanya will take him back. Cora rearranges Tanya hospital appointment and insists on accompanying her. Whilst they wait, Cora reminds Tanya of what she's got. Tanya's appointment goes well. When the venue for Fatboy's DJ gig falls through, Lauren offers him No.5. Lots of people turn up and the party quickly spirals out of control. Lauren calls Tanya. Tanya throws everyone out, handing out Max's belongings as party favours. Discovering what's going on, Max and Jack collect back Max's things. Lauren asks Tanya what now? Strong, Tanya says they start again: no Max, no fighting, just them.
Zainab insults AJ when he's uninterested in her upcoming interview. At the Minute Mart things are tense; Denise assures Zainab their friendship's more important than the job – then discovers Zainab hasn't passed on a message about her interview time changing. During Zainab's interview, she discovers a 'friend' has called and warned them about her short term memory loss. Zainab accuses Denise then realises it was AJ. Back home, Masood lectures Zainab and AJ. Thawing, AJ and Zainab apologise via a post it note on the toaster.
Sharon helps Bianca out, taking Morgan to school. When Dennis and Morgan are involved in a playground fight, Sharon refuses to consider it could be Dennis' fault. She's furious when Jack admits he gave Dennis a boxing lesson. Jack accuses her of wrapping Dennis in cotton wool and spending too much time with Lexi.
Finding Dexter at the Arches again, Ava reminds him Walford's not their home. Dexter points out that she's also working in Walford and he's later amused when Ava gives Max a piece of her mind in the Vic.
Phil appeals to Billy; Lola talks to Billy and then Dexter about her own childhood and finally agrees that Phil can take Lexi on holiday.
Last on
Credits
| Role | Contributor |
| --- | --- |
| Tanya Cross | Jo Joyner |
| Cora Cross | Ann Mitchell |
| Lauren Branning | Jacqueline Jossa |
| Abi Branning | Lorna Fitzgerald |
| Max Branning | Jake Wood |
| Jack Branning | Scott Maslen |
| Joey Branning | David Witts |
| Arthur 'Fatboy' Chubb | Ricky Norwood |
| Denise Fox | Diane Parish |
| Zainab Khan | Nina Wadia |
| AJ Ahmed | Phaldut Sharma |
| Masood Ahmed | Nitin Ganatra |
| Lola Pearce | Danielle Harold |
| Billy Mitchell | Perry Fenwick |
| Phil Mitchell | Steve McFadden |
| Sharon Rickman | Letitia Dean |
| Dennis Rickman | Harry Hickles |
| Bianca Butcher | Patsy Palmer |
| Morgan Butcher | Devon Higgs |
| Ava Hartman | Clare Perkins |
| Dexter Hartman | Khali Best |
| Interviewer | Jonathan Sidgwick |
| Executive Producer | Lorraine Newman |
| Director | John Greening |
| Writer | Katie Douglas |