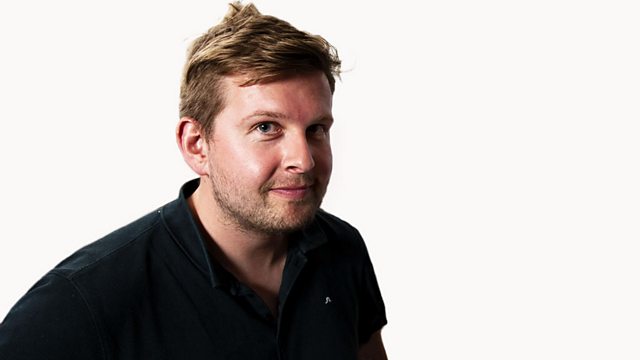 Greg McHugh Stands Up for Scotland
Greg McHugh - star of Gary Tank Commander and Fresh Meat - introduces some of his favourite Scottish funny men and women, with features, conversations and sitcoms:
* Take an Englishman and a Scotsman:
Graeme Garden is joined by Elaine C Smith, Colin Gilbert, David Quantick, Hardeep Singh Kohli, Arnold Brown and Johnny Beattie to ponder the north/south divide of comedy style and inspiration. From 2007.
* When the Dog Dies
Series 1. Ep 1/6 The Same Hymn Sheet:
Ronnie Corbett is the long-suffering head of a dysfunctional family, trying to live out his golden years in peace, along with his trust mutt Henry. Sandy wants to protect his grandson Tyson from the harsh training programme of Tyson's father Blake. From 2010.
* Armando Iannucci: The Radio Scotland Years:
Producer Dave Bachelor chats with the esteemed satirist about his start in the business, playing some hilarious tapes of his early comedy efforts on BBC Radio Scotland. From 2006.
* Fags, Mags & Bags
Series 3 Ep 3/6 The Wrath of Khan:
Scottish shopkeeper Ramesh causes havoc by installing a slush puppie machine in his Glasgow corner shop Sitcom written by and starring Sanjeev Kohli and Donald McLeary. With Greg McHugh as astrologer Keith Futures. From 2010.
* Laughing In All the Right Places:
Janey Godley talks to presenter Jo Caulfield about how her Scottishness makes her stand out in the comedy crowd. From 2010.
* Hiya Pal:
Janice Forsyth pays tribute to the late Gerard Kelly, with contributions from family and friends Ricky Gervais, David Hayman, Jonathan Watson, Craig Ferguson, Andy Gray and Billy Differ. From 2010.
Producer: Elizabeth Clark
Made for BBC Radio 4 Extra by BBC Radio Scotland
First broadcast in 2013.