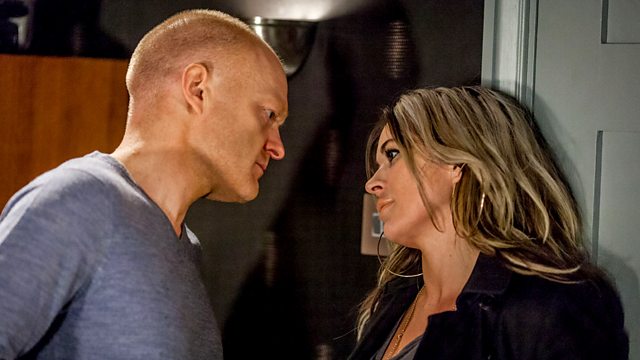 21/01/2013
Kirsty demands to know what Tanya's doing in her room. Tanya starts throwing Kirsty's belongings out the window. Tanya produces the key she found in Max's pocket. Kirsty mentions the moment between her and Max before Derek's funeral. Tanya requests that Kirsty sign the divorce papers, Kirsty scrawls 'never' across them. Max arrives and Tanya leaves. Kirsty tries to kiss Max but he pushes her away then leaves, insisting he doesn't want her; if she ever loved him she'll sign the papers and let him go. Bianca's unsympathetic when she and Kat see Kirsty outside, gathering up her things. Back home, Tanya's hysterical after Lauren admits Kirsty gave the key to her. Abi, Lauren and Max calm Tanya down. Max insists Kirsty will sign the papers and it'll be done. Tanya finds Cora attempting to cook goulash and takes over. Lauren visits Kirsty, telling her Max is never going to leave Tanya; Kirsty should do what he says and go, this will never be her home. Angry, Kirsty storms off to work at the Vic. There, Sharon and Roxy are hostile. Phil asks Kirsty out for dinner but she knocks him back. Alfie's kind and Kat advises Kirsty to cut her losses; does she really want to be the ex working behind the bar? Billy shows Kirsty a photo of Lexi. The Brannings are sitting down to dinner when Kirsty calls. Ignoring the phone, Max proposes a toast. Then the landline rings and soon there's someone at the door. Max answers; it's Dot, on the warpath about Cora. Max finally answers his mpbile and Kirsty demands to see him. Max heads out, claiming he's going to check on Dot. He runs to the B&B and Kirsty hands him the divorce papers – now signed.
Last on
Credits
| Role | Contributor |
| --- | --- |
| Max Branning | Jake Wood |
| Tanya Cross | Jo Joyner |
| Lauren Branning | Jacqueline Jossa |
| Abi Branning | Lorna Fitzgerald |
| Cora Cross | Ann Mitchell |
| Patrick Trueman | Rudolph Walker |
| Kat Moon | Jessie Wallace |
| Bianca Butcher | Patsy Palmer |
| Jack Branning | Scott Maslen |
| Sharon Rickman | Letitia Dean |
| Alfie Moon | Shane Richie |
| Roxy Mitchell | Rita Simons |
| Billy Mitchell | Perry Fenwick |
| Michael Moon | Steve John Shepherd |
| Dot Branning | June Brown |
| Phil Mitchell | Steve McFadden |
| Executive Producer | Lorraine Newman |
| Director | John Greening |
| Writer | Simon Ashdown |
Shocked Sharon confronts "K"