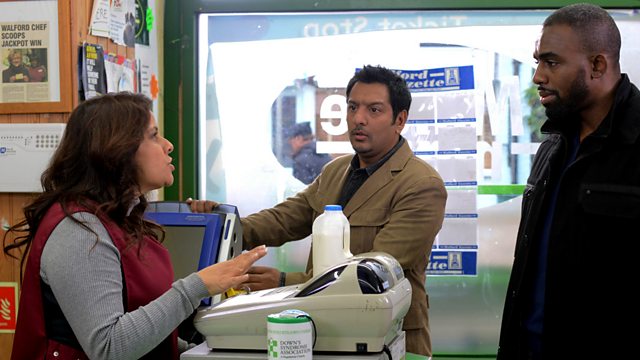 14/01/2013
Irate Zainab still worries Ayesha has a crush on AJ, and sets Tamwar and Ayesha cleaning the Minute Mart to display her initiative for the regional manager's job. Masood probes Ayesha about playing footsie with him – she confirms her crush is on him. Masood gently suggests it's grief displacement from her father's death. Ayesha denies it, but appreciates his kindness. Masood tells Zainab Ayesha fancies Ray; his lie is exposed when Zainab confronts Ray. Ayesha's humiliated to discover Zainab read her letter but forgives Masood for lying about her crush, convinced he was protecting her. Frustrated, Masood snaps her feelings must end.
Abi's poorly and stressed about her imminent exams. Overhearing Tanya gushing about Abi, Lauren offers to help at Booty. She discovers a hospital letter, worried to see Tanya missed an appointment. Lauren confronts Tanya, demanding she make another appointment, resulting in an argument. Lauren hits the bottle and sneaks Joey into the Vic toilets, kissing him, then steals Poppy's keys for some alone time. Joey and Lauren are tearing each other's clothes off and kissing on the sofa when Dot returns, appalled.
While cleaning the Vic on her first day, Kat takes off her wedding and engagement rings. Alfie gives Kat a birthday card. Roxy gets on Kat's nerves dishing out orders. Kat sees Amy with one of Tommy's toys; a fight ensues, Alfie takes Roxy's side and Kat resigns. Later, Bianca returns with Kat's rings and a bottle of pilfered wine, reporting she's been sacked.
Ava worries she'll be late for a job interview when her car breaks down. At the Arches, Jay's too busy to fix the car but let's Dexter use their tools. Phil insists Dexter work for free for a day as recompense.
On Bridge Street, Kirsty comforts Oscar when he falls off his bike.
Last on
Credits
| Role | Contributor |
| --- | --- |
| Dot Branning | June Brown |
| Lauren Branning | Jacqueline Jossa |
| Joey Branning | David Witts |
| Tanya Cross | Jo Joyner |
| Max Branning | Jake Wood |
| Jack Branning | Scott Maslen |
| Masood Ahmed | Nitin Ganatra |
| Zainab Khan | Nina Wadia |
| Ayesha Rana | Shivani Ghai |
| AJ Ahmed | Phaldut Sharma |
| Tamwar Masood | Himesh Patel |
| Kat Moon | Jessie Wallace |
| Roxy Mitchell | Rita Simons |
| Alfie Moon | Shane Richie |
| Bianca Butcher | Patsy Palmer |
| Phil Mitchell | Steve McFadden |
| Jay Mitchell | Jamie Borthwick |
| Dexter Hartman | Khali Best |
| Ava Hartman | Clare Perkins |
| Ray Dixon | Chucky Venn |
| Abi Branning | Lorna Fitzgerald |
| Poppy Meadow | Rachel Bright |
| Arthur 'Fatboy' Chubb | Ricky Norwood |
| Executive Producer | Lorraine Newman |
| Director | Ian White |
| Writer | Matthew Barry |