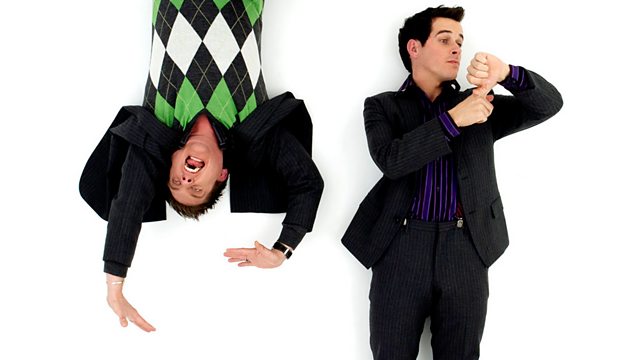 16/01/2013
Mel Giedroyc presents part 3 of Jacqueline Wilson's 'Dustbin Baby' and the Inheritance Tracks of Frances de la Tour, plus Dick and Dom ask How Dangerous Is Your Garden.
Last on
Activity 1. Meet the woodlice
Try looking under any pot plants or big stones, and you're likely to uncover woodlice, (also known as "slaters" in Scotland). Woodlice like dark and damp conditions so look in areas that are out of direct sunshine. Dick and Dom and the team found masses when they turned over a plank of wood lying under a trampoline.
Woodlice help gardeners by munching through dead leaves and other organic matter to create compost. They are quite far down the food chain, having many predators, so they stay hidden away as much as they can.  They need to live in moist conditions because they breathe through gills, and if they're left in the sunshine for too long they will die.
If you find a few woodlice, you can create a race track for them and watch them scurry into the dark. All you need is a baking tray, with partitions for lanes made from modelling clay or cardboard. At the finishing line, create a darkened area and fill it with leaves. In theory, the woodlice will run to get into the dark end – although the race may be rather chaotic, as Dick and Dom and the boys discovered! It will certainly work better on a brighter day.
Whether you try racing your woodlice or not, make sure you return all of them (and any other creatures you find in the garden) to the place you found them in.
Activity 2. Explore a leaf pile
Another way to see what's in your garden, is to rake up a large pile of leaves, and leave it undisturbed for a few days. Then spread a bedsheet out on the grass next to the leaf pile (ask first before you do this!) and push the leaves over onto it. Quickly spread them out, and have a look to see if there's anything moving…
Activity 3. Investigate moths
At night, moths visit your garden. This happens throughout the year, although the summer months are the busiest. There are 2500 varieties of moth in the UK, and they vary widely in appearance, so they're well worth a look.
Moths are attracted to light, so the simplest way to find some moths to examine is to hang a white sheet up in the garden (or inside, if you open the windows), and shine a bright torch on it for a while. Be patient! If moths or other flying insects appear, you can capture them in a jar or bug-box for a short time and inspect them up close. Remember to let them go once you've finished.