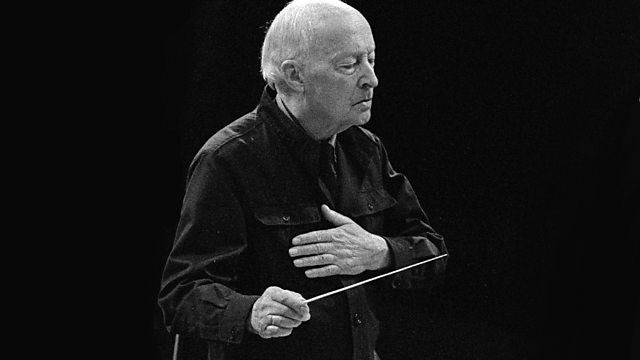 Celebrating the centenary of Polish composer Witold Lutoslawski. Presented by Penny Gore.
The BBC Symphony Orchestra and Ulster Orchestra play music by Dvorak, Grieg, Ian Wilson and Lutoslawski, deeply rooted in folk music and local flavours.
We start with one of Grieg's best-loved pieces, Suite No. 1 from Peer Gynt, the incidental music to Henrik Ibsen's 1867 play of the same name, conducted here by Pietari Inkinen. Then Michael Collins is the soloist in a brand-new recording of Lutoslawski's Dance Preludes, inspired by the music of northern Poland, before we head south to Bohemia - and simultaneously west to America and east to China (where the performance was given) - for Dvorak's Ninth Symphony, 'From the New World'.
The Ulster Orchestra feature in two performances given in Belfast late last year: Lutoslawski's Musique funebre, written in memory of Bela Bartok, and Ian Wilson's piece for orchestra, solo piano and flute band, called Flags and Emblems. The composer himself conducts, and the orchestra is joined by the Ballygowan Flute Band.
And finally today, Lutoslawski's Second Symphony, with Edward Gardner conducting the BBC Symphony Orchestra.
Grieg: Peer Gynt, Suite No. 1, Op 46
BBC Symphony Orchestra,
Pietari Inkinen (conductor).
2.15
Lutoslawski: Dance Preludes
Michael Collins (clarinet),
BBC Symphony Orchestra.
Dvorak: Symphony No. 9 in E minor, Op. 95 (From the New World)
BBC Symphony Orchestra,
Jiri Belohlavek (conductor).
3.05
Lutoslawski: Musique funebre
Ulster Orchestra,
Ian Wilson (conductor)
Ian Wilson: Flags and Emblems
Matthew Schellhorn (piano),
Ballygowan Flute Band,
Ulster Orchestra,
Ian Wilson (conductor)
3.40
Lutoslawski: Symphony No. 2
BBC Symphony Orchestra,
Edward Gardner (conductor).
Last on