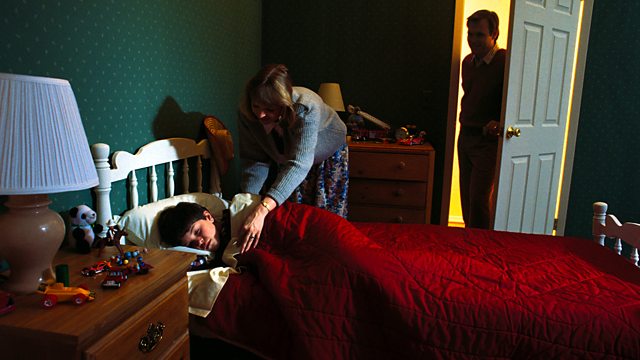 Tucked up by Mum and Dad
Parents of all sorts feature in this edition of Words and Music, from their own and their children's perspective. So we hear about dysfunctional families from ancient Greece and Philip Larkin; the joys of parenthood from Anna Laetitia Barbauld and a dewy-eyed Coleridge - and its dark side from Abraham and Rachel Cusk. Michael Rosen grieves for his son, while Alan Bennett and Elizabeth Jennings describe relationships with elderly parents. Plus (in case you're confused) parenting advice from Erasmus and Dr Benjamin Spock. Readings by Harriet Walter and James Garnon and music from Ligeti, Bach and Tom Lehrer, among others.
Contains some strong language.
David Papp (producer).
Last on
Producer Note
In this edition of Words and Music, parents and children mete out misery and joy.
In 'This be the Verse' Philip Larkin squarely lays the blame for being messed-up with  mum and dad. But as Alan Bennett has pointed out, writers who are messed-up by their parents are 'fine because then you've got something to write about'. 
Edmund Gosse certainly proved the point in his autobiographical 'Father and Son' which describes a Victorian upbringing at the hands of a religious fundamentalist father.  Oedipus could reasonably claim to have been more messed up than most by his parents but then he certainly paid it back to them in spades: all neatly summed-up here by XJ Kennedy and Tom Lehrer.  Then there's the Old Testament's Abraham, willing to sacrifice his son if God tells him to. Roald Dahl's Matilda and Stevie Smith both need to escape their oppressive parents.
Of course, children have an impact on their parents. A pregnant Anna Laetitia Barbauld can't wait for the joy and love she thinks her child will bring; Coleridge's newborn son provokes a similar ecstatic response.  But the realities of coping with young children take Sylvia Plath and Rachel Cusk beyond the brink of sanity. The Land of Dreams is 'better far' than the real world for the little boy in Blake's poem – a pitiful exchange between a recently widowed father and his motherless son.
Kahil Gibran's 'On Children' exhorts parents to let go of their offspring and to acknowledge their separateness and individuality; Robert Louis Stevenson's 'To Any Reader' is also about parental letting-go.  Forced to let go is Michael Rosen, broken by grief after the death from meningitis of his teenage son.
Elderly parents feature in two texts: Elizabeth Jennings' mother leaves her with pent up tears of frustration, and Alan Bennett is witness to a poignant exchange.
There are happy parents and children here, too! In a witty parody of Larkin, the parents in Adrian Mitchell's 'This be the Worst' 'tuck you up' in boundless love and security. And in his 'Essays' Montaigne has nothing but praise both for his father's educational methods and his way of waking him up in the morning.
Every parent will be aware of countless books on bringing up children. One of the first, from 1430 and full of good advice, was Erasmus's bestselling 'On the Education of Children'.  Here is advice on that perennial parental headache: table manners. Dr Benjamin Spock's 1946 'Baby & Childcare' begins the programme. With its exhortation to parents to trust their instincts and common sense it, too, became a bestseller (at over forty-five million copies, and still counting). Many of us will have experienced it in one way or the other.
I have chosen music which seems to fit the feeling of the texts, rather than for any more overt significance to the programme's theme. (Although as father to twenty children, Bach surely merits inclusion on that score alone and Jonathan Harvey's great electroacoustic 'mortuos plango, vivos voco' features the recorded voice of his son, Dominic.)
David Papp (producer)