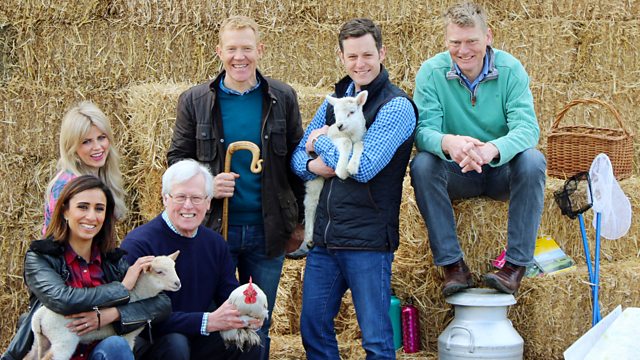 Horses and Dogs
Adam Henson takes a look at our favourite four-legged friends in the countryside - horses and dogs. He invites some of the most charming of the breeds onto his farm in the Cotswolds, sees how heavy horses still pull their weight in the fields and finds out whether his gun dog has any natural instincts at all.
Looking back into the Countryfile archives to see how the two animals are an integral part of rural life, Adam revisits the time when Julia Bradbury and Matt Baker raced husky dogs in the snowy Cairngorms, when Ellie Harrison became the quarry for a pack of blood hounds and when Jules Hudson spent a day out with the Light Cavalry.
Last on
Adam and man's best friends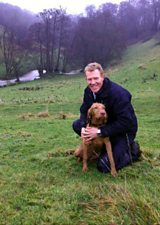 This week's Countryfile is all about two of man's best friends; dogs and horses. Adam Henson finds out just how hard farming used to be, when he watches a shire horse called Levi working in the fields. Shire horses were once a common sight on British farms until the tractor took over. Now they are a rarity and it is a real treat for Adam to see Levi – and one of his smaller companions – working on his farm. Last year, Adam got a new puppy called Boo. As well as being a family pet, he is also being trained to work as a gun dog. Adam has invited a fully trained labrador, called Fleurie – together with trainer Annie Wells - to come and give Boo some tips. Finally, Adam heads out with some of his neighbours for a rather bracing horse ride on the Cotswolds – and of course, the dogs are all coming too.
Matt and Julia go husky racing
Every year a major dog sled rally gets underway in Scotland's Glenmore Forest. More than two hundred competitors and a thousand dogs race around the four mile track in the shadow of Cairngorm Mountain. Thanks to the deep snow when we visited, competitors at the dog sled rally have been able to ditch their wheeled rigs for the first time in fifteen years. Taking their place are the sleds. These state-of-the-art pieces of kit are designed to get the best maneuverability on the snow and to hit top speeds. Julia and Matt meet some of Britain's fastest dog teams and mushers. Then, with a bit of training, they are pitched against each other on the racetrack.
The hunt for Ellie
Bloodhounds have been used to track people and animals for centuries. These hounds have an amazing sense of smell and are well known for their mild temperament. Ellie Harrison meets these much-loved hounds and finds out what life is like as their quarry, when she takes part in a little-known countryside sport known as "hunting the clean boot" – basically chasing a person with a pack of hounds and riders on horseback. But will she manage to stay ahead of the pack?
Jules joins the Light Cavalry
Windsor has a long and rich military background with both the Irish Guards and Household Cavalry still resident in the town today. Jules Hudson visits a lesser known branch of the Honourable Artillery Company, the Light Cavalry. This voluntary unit primarily has a ceremonial role but this week takes the opportunity to show off some historic skills. Jules tries his hand at 'tent pegging' – an equestrian game which involves a mounted horseman riding at a gallop and using a sword or a lance to pierce, pick up and carry away a small ground target. Jules quickly discovers it is not as easy as it looks especially when wearing full military uniform.
World Sheepdog Trials
Cumbria's one of the training heartlands for competitive sheepdog trials and for the first time in its history, the World Sheepdog Trials has been hosted in England on the Lowther Estate. Competitors from as far away as Brazil, New Zealand and Japan flocked to take part in the trials, which see their dogs demonstrate technical skill, agility and control. Matt Baker and Helen Skelton discover just what it takes to make a champion sheepdog handler before competing against each other - and some torrential rain!
The Kiplingcotes Derby
In the heart of the Yorkshire Wolds, Julia Bradbury is getting acquainted with an ancient local tradition. The Kiplingcotes Derby is the oldest horse race in England, run every year since 1519. The tough course has changed little since then, running for four miles across rugged farmland tracks normally fit only for tractors and off-road vehicles. It is an amateur race and anyone can enter but you need stamina, nerves of steel and ideally a thoroughbred race horse to be in with any chance of winning. Julia Bradbury meets this year's likely contenders – including first timer Emma Herbert-Davies, who is yet to see the race let alone ride it, and veteran winner John Thirsk.
Hound trailing with Matt
Hound trailing is a relic from a time when the speed of hunting dogs was tested in the off-season. These days it is a sport in its own right and is now almost exclusive to the Cumbrian fells. Matt joins a family preparing its prize-winning hound 'Miss Molly' for a race across the fells surrounding Eskdale.
Credits
| Role | Contributor |
| --- | --- |
| Presenter | Adam Henson |
| Reporter | Julia Bradbury |
| Reporter | Matt Baker |
| Reporter | Ellie Harrison |
| Reporter | Jules Hudson |
| Series Producer | Teresa Bogan |