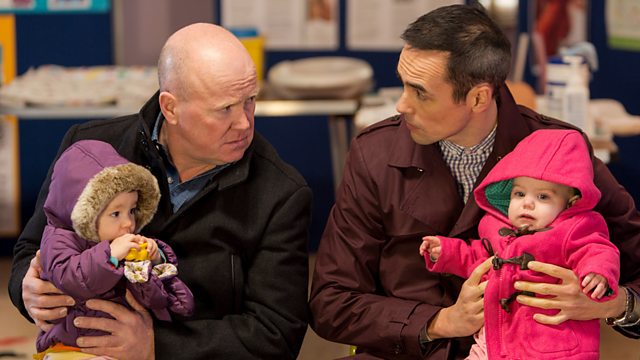 08/01/2013
Jack plans a party in R&R to announce his engagement to Sharon; she insists she has to tell Phil first. Sharon tries to but gets involved in an argument between Phil and Lola when Lola brings Lexi back late again. Lola's grateful for Sharon's support. Sharon's awkward, but soothes she's going nowhere. Later, she's uncertain about the party and Jack gives her an ultimatum - if she wants to marry him, meet him there. Sharon rushes to R&R on learning Phil has gone there too. Jack announces their engagement. Lola's face falls. As everyone cheers, Sharon's eyes meet Phil's - his face is like thunder.
Tanya demands Max makes Kirsty leave the Square. Jack arrives with Derek's ashes. Everyone agrees that Alice should decide where they should be scattered. Tanya meets Kirsty at the café and offers her money to leave Walford. Tanya's triumphant when Kirsty takes the money and leaves in a cab; she's shocked when she later appears at R&R with Michael wearing a brand new dress bought with Tanya's money. After a confrontation in the toilets, Kirsty makes it clear she's not going anywhere.
Denise has slept on the Masoods' sofa and is desperate to make up with Kim. At the B&B, she narrowly avoids a soaking when Kim throws a bucket of water at her. Irate Denise speaks to Ray about his lies; she soon realises that he is having doubts about his relationship with Kim and, anxious to protect Kim, Denise agrees to go along with Ray's version of events.
When Roxy sees that Alfie is concerned about Kat's financial situation, she hatches a plan filled with good intentions - Kat and Bianca could clean the Vic.
Jack identifies one of Michael's £20 notes as fake. Michael offers Phil a proposition to launder dodgy money through their businesses. Phil laughs.
Last on
Credits
| Role | Contributor |
| --- | --- |
| Phil Mitchell | Steve McFadden |
| Sharon Rickman | Letitia Dean |
| Jack Branning | Scott Maslen |
| Tanya Cross | Jo Joyner |
| Max Branning | Jake Wood |
| Cora Cross | Ann Mitchell |
| Alice Branning | Jasmyn Banks |
| Michael Moon | Steve John Shepherd |
| Denise Fox | Diane Parish |
| Kim Fox | Tameka Empson |
| Patrick Trueman | Rudolph Walker |
| Ray Dixon | Chucky Venn |
| Alfie Moon | Shane Richie |
| Roxy Mitchell | Rita Simons |
| Kat Moon | Jessie Wallace |
| Bianca Butcher | Patsy Palmer |
| Lola Pearce | Danielle Harold |
| Zainab Khan | Nina Wadia |
| Jean Slater | Gillian Wright |
| Poppy Meadow | Rachel Bright |
| Lauren Branning | Jacqueline Jossa |
| Abi Branning | Lorna Fitzgerald |
| Jay Mitchell | Jamie Borthwick |
| Joey Branning | David Witts |
| Health Worker Caroline | Charlotte Allam |
| Executive Producer | Lorraine Newman |
| Director | Tim Mercier |
| Writer | Paul Matthew Thompson |