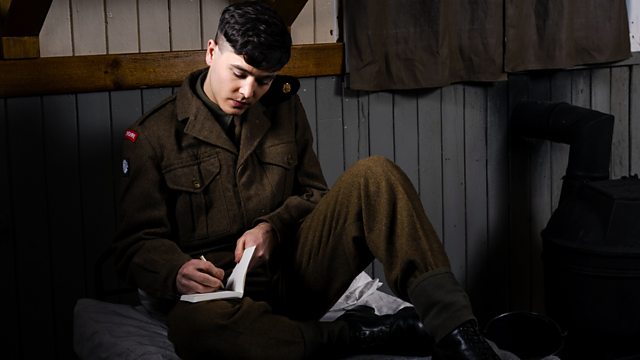 Two Section is on the assault course. Barrowman tells the men that if they beat One Section's time they will get a crate of beer: if they don't, they will be peeling spuds for the regimental dinner that evening.
White-Bowne tells Captain Gulliver that he is standing in the Oldham East by-election and will thus get exemption from National Service.
Hobbs, waiting in an army cell after being AWOL, fears the worst. Lomax hides a wrapped package under his pillow. Keenan and Connie have dinner together.
Last on
Credits
| Role | Contributor |
| --- | --- |
| Private Keenan | Alexander Vlahos |
| Private White-Bowne | Jack Fox |
| Private Wratten | Billy Seymour |
| Private Lomax | Ross Anderson |
| Private Rothman | Sam Swann |
| Private Davies | Matthew Aubrey |
| Private McIllvenny | Conor MacNeill |
| Private Hoy | David Kirkbride |
| Sergeant Butcher | Michael Nardone |
| Corporal Barrowman | Phil McKee |
| Captain Gulliver | Patrick Baladi |
| Audrey Gulliver | Emma Stansfield |
| Connie Charles | Sara Vickers |
| Lance Corporal Hobbs | Marc Silcock |
| Norah Preston | Sasha Frost |
| Major Cunnicliffe | Steven Pacey |
| Producer | Nick Pitt |
| Director | Bryn Higgins |
| Writer | Damian Wayling |