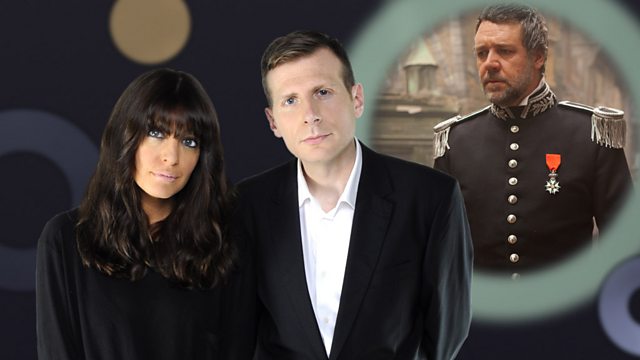 Claudia and Danny return after the Christmas break. Films up for review include the hugely anticipated big-screen adaptation of Les Miserables, Ryan Gosling and Emma Stone in Gangster Squad, and Irish drama What Richard Did. Danny also talks to Quentin Tarantino.
Last on
More episodes
Previous
You are at the first episode
Review of Les Miserables - Claudia's Film of the Week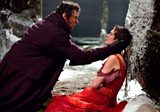 Claudia: Even just listening to and watching those clips again, I want to cry. It's so moving. I thought it was so wonderful. Anne Hathaway is so phenomenal; I love Eddie Redmayne; I love 'Empty Chairs at Empty Tables'. I cannot recommend it enough. It's big, and it will just take you along... All I will say is that it is a train that you can decide to get on. You have to decide pretty fast though, because you can sit there and say, 'Ooh this is a bit loud! They seem to be actually singing...'; or, like me, you can give it a standing ovation. I was absolutely swept away and I thought the cast was brilliant.
Danny: This is a West End show executed on the scale of World War II.  Tom Hooper is determined to do everything you could never do on the stage. He's grabbing you and pulling you until you're three feet away from the actors, watching their tonsils vibrate as they sing... I think it's lavish and ruthlessly efficient. I think it's a masterstroke having the actors sing live; it does mean that everything is more alive than the average musical.
It's Anne Hathaway's Oscar moment but the rest of the cast is a mixed bag. The real star of the show though is Tom Hooper - who's always there, conducting this one-man crusade against subtlety and understatement. I don't have a problem with the fact that it's loud but I think that people should be aware of the fact that it's loud, and it's loud all of the time. This is a film which really only has one gear, but it's an impressive achievement. Are people going to get what they want from it? Yes. Is it going to convert people who don't even think they like musicals? Probably. It's just that I felt a bit like I'd been rolled over by a singing tank.
Review of Gangster Squad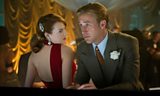 Danny: Gangster Squad wants to do for 40s L.A. what Guy Ritchie's Sherlock Holmes did for Victorian London. It wants to take this famous historical setting and use it to launch a very, glossy, modern action movie. You have a lot of neon; you have a lot of blood; you have a lot of camera hi-jinx. I think that part of the problem is that it's a cartoon; though it is meant to be a cartoon. If you go in expecting L.A. Confidential and you get this, you're going to be disappointed. I'm not using cartoonish as an insult, but that is just what it is to its very core, right down to Emma Stone.
I don't have a problem with her at all, or Sean Penn, who acts as a reminder that the Panto season doesn't have to end at Christmas. I do have a problem with Ryan Gosling - and we're all Ryan Gosling fans - but I think he badly needs to find another character to play. He can't just be this indie 'Ken Doll' for the rest of his life. There's a vaccuum of sexual chemistry between him and Emma Stone, and it sends the whole film off balance. I don't think it's un-fun, but if you want gritty, realistic portrayal of 40s L.A, read James Ellroy.
Claudia: It's so interesting that you mention L.A. Confidential because as soon as you sit down think, 'I want to see that again!'. I feel bad slagging it off, because I like the story, I like the cast - Emma Stone, Ryan Gosling, Sean Penn - but there's so much slow motion at one point I though maybe I should go and see the projectionist... Why doesn't it click?
Review of What Richard Did - Danny's Film of the Week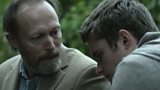 Danny: Movies tend to rely on heroes and villains but What Richard Did turns all that on its head, because Richard is a natural hero. He's a young man with a glorious future ahead of him but then a mistake is made, and this is a film all about guilt and mistakes. What's so fantastic about it is it lets you draw your own conclusions. It's smart and it's subtle, and it doesn't do your thinking for you, and I think it's a real breath of fresh air. Jack Reynor has a very tricky part to play because Richard is the kind of character who keeps everything behind a mask, so he has to carry the entire movie without giving too much away. I think it's exceptional. I'm a big fan.
Claudia: I like films that do my thinking for me - genuinely, I'm very obedient! However, this is a brilliant film. Everybody you watch who's a part of it, you think, I'm definitely going to see you again - which is kind of a weird feeling when you're watching these young kids. Jack Reynor, who plays Richard, is extraordinary, because he's so pretty - and I hope he wouldn't mind me calling him that - so you think he's going to be forgettable, but he plays a blinder.
Credits
| Role | Contributor |
| --- | --- |
| Presenter | Claudia Winkleman |
| Presenter | Danny Leigh |
| Series Producer | Jayne Stanger |
| Executive Producer | Basil Comely |