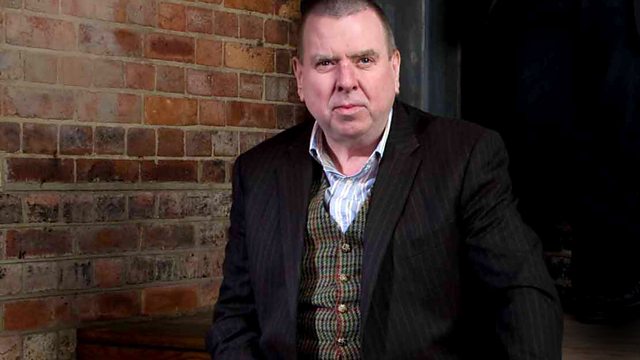 Clive Anderson, Timothy Spall, Mark Williams, Virginia Ironside, Pippa Evans, Serafina Steer, Old Tire Swingers
What ho! That charming chappie Clive Anderson has a simply spiffing line-up this week! He'll be parlaying with that wonderful plebeian actor Tim Spall who's playing Bertie Wooster in a new BBC One adaptation of P.G. Wodehouse's Blandings on Sunday 13 January at 6:30pm. Bally good stuff, eh?
Segueing seamlessly we move from English gentleman to English Clergyman. Hearing Clive's confession this week is Mark Williams - former denizen of the parishes of the Fast Show and Harry Potter. Mark stars as Father Brown starting on BBC One Monday 14 January at 2.10pm.
Agony aunt Virginia Ironside will be in full effect too. In between sorting out Clive's "difficulties", Virginia will spill the beans on her latest comic novel which deals with the vagaries of getting on a bit. It's called, "No! I Don't Need Reading Glasses!" AND she's got a forthcoming 'granny stand-up tour'. Get her.
Pippa Evans will be exhausted, poor love. She's coming straight from a 50 hour non-stop improvised comedy soap opera. She's hot-footing it to Loose Ends central to make it up as she goes along with Jon Holmes. There's no helping some people. The Sixth Annual London Improvathon is at Hoxton Hall until Sunday 13 January at 9pm.
Top notch tunes this week come all the way from sunny California with a whiff of the Appalachian mountains. The Old Tire Swingers peddle their own brand of hard-driving old-time string band with a song called 'Big Eyed Rabbit' from their self-titled album.
And Jarvis Cocker's fave Serafina Steer is a harp playing multi-instrumentalist who will be taking us on an 'Island Odyssey' - the the current single from her new album 'The Moths Are Real'.
Producer: Cathie Mahoney.
Last on
Listen to Loose Ends anytime, anywhere.