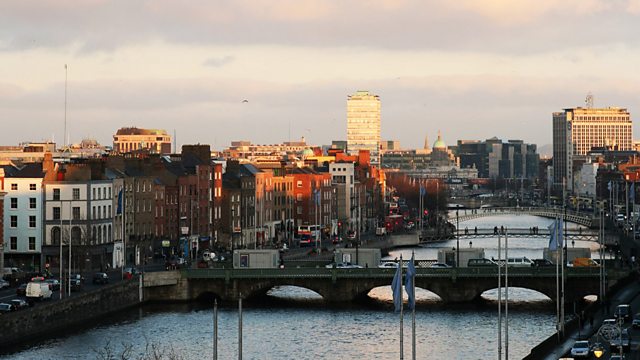 When the writer Joseph O'Connor was a child, his mother would take him for walks around their Dublin neighbourhood, and point out where James Joyce and John Synge had lived and worked.
"I grew up in Dun Laoghaire, a coastal town 8 miles south of Dublin city where there was a pier and a waterfront, and the nightly entertainment in the summer when you were a teenager was to walk down the pier and look at the boats and the ferries leaving for London and wonder to yourself would you go to Manchester or Coventry. There was no notion that you'd stay in Dublin..
But my parents would say to us you know, this little rainy sad place on the western outshores of Europe where we don't do many things brilliantly, this is the country of Yeats, and Patrick Kavanagh and Oscar Wilde and George Bernard Shaw.
The ghosts of these great writers are part of the fabric of the city."
In Re-Imagining the City: Dublin, Joseph O'Connor offers us a new story of Dublin. He grew up knowing that this city was the setting for so many literary masterpieces - it was like living on a film set. But gradually the suburbs of Dublin became a place of change, where new voices were heard, new sounds and ideas of Dublin created an alternative view of the city.
Produced by Rachel Hooper
A Falling Tree production for BBC Radio 4.
Last on