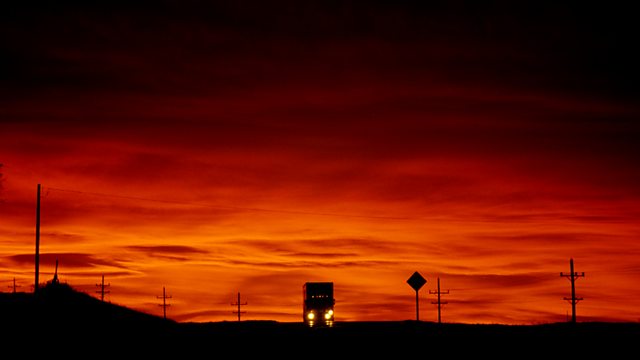 14/01/2013
As part of our young performers season, Nicola Christie presents a recital by the American pianist Claire Huangci. She performs a varied programme of Bach, Chopin and Tchaikovsky.
12:31 AM
Bach, Johann Sebastian [1685-1750]
Overture (Partita) in the French style in B minor BWV.831 for keyboard
Claire Huangci (piano)
12:48 AM
Chopin, Fryderyk [1810-1849]
Ballade no. 4 in F minor Op.52 for piano
Claire Huangci (piano)
12:59 AM
Chopin, Fryderyk [1810-1849]
Polonaise in A flat major Op.53 ('Eroica') for piano
Claire Huangci (piano)
1:07 AM
Saint-Saens, Camille [1835-1921], arr. Horowitz, Vladimir [1904-1989]
Danse macabre - symphonic poem Op.40, arr. for piano
Claire Huangci (piano)
1:16 AM
Prokofiev, Sergey (1891-1953)
Symphony No.7 in C sharp minor (Op.131)
Orchestre Métropolitain, Agnes Grossmann (conductor)
1:47 AM
Scriabin, Alexander [1872-1915]
Sonata no. 2 in G sharp minor Op.19 (Sonata-fantasia) for piano
Claire Huangci (piano)
1:59 AM
Rachmaninov, Sergey [1873-1943]
Excerpts from 13 Preludes Op.32 for piano
Claire Huangci (piano)
2:09 AM
Tchaikovsky, Peter Ilyich [1840-1893]
Excerpts from 'The Sleeping Beauty, op. 66', arr. for piano
Claire Huangci (piano)
2:27 AM
Scarlatti, Domenico [1685-1757]
Sonata in D minor Kk.1
Claire Huangci (piano)
2:31 AM
Mendelssohn, Felix (1809-1847)
Octet for strings (Op.20) in E flat major
Norwegian Radio Orchestra, Pietari Inkinen (conductor)
3:04 AM
Telemann, Georg Philipp (1681-1767)
Cantata 'Unschuld und ein gut Gewissen' for 4 voices, 2 oboes, strings and continuo
Veronika Winter (soprano), Patrick von Goethem (alto), Markus Schäfer (tenor), Ekkehard Abele (bass), Rheinische Kantorei, Das Kleine Konzert, Hermann Max (conductor)
3:17 AM
Martinů, Bohuslav (1890-1959)
3 Madrigals for violin and viola
Andrej Kursakov (violin), Mikhail Tolpygo (viola)
3:33 AM
Rore, Cipriano de (c1515-1565)
Vaghi pensieri; Da le belle contrade d'oriente; Amor, che t'ho fatt'io - madrigal for 5 voices
The Consort of Musicke, Anthony Rooley (director)
3:45 AM
Dvorák, Antonín (1841-1904)
Carnival overture (Op.92)
Slovenian Radio and Television Symphony Orchestra, Samo Hubad (conductor)
3:55 AM
Pezel, Johann Christoph (1639-1694)
Sonatina for 2 Trumpets and organ in B major
Ivan Hadliyski & Roman Hajiyski (trumpets), Velin Iliev (organ)
3:59 AM
Haydn, Joseph (1732-1809)
Trio for keyboard and strings in F major (H.15.4)
Moscow Trio
4:12 AM
Wolf-Ferrari, Ermanno (1876-1948)
Two orchestral intermezzi from 'Il Gioielli della Madonna' (Op.4)
KBS Symphony Orchestra, Othmar Maga (conductor)
4:21 AM
Satie, Erik [1866-1925]
La Belle Excentrique (Fantaisie serieuse) - vers. for piano duet
Pianoduo Kolacny
4:31 AM
Handel, George Frideric [1685-1759], orch. Mozart, Wolfgang Amadeus [1756-1791]
Overture and Prelude to Act II of Acis and Galatea K. 566
Norwegian Radio Orchestra, Andrew Manze (conductor)
4:41 AM
Albéniz, Isaac (1860-1909)
Cordoba - from Cantos de Espana (Op.232 No.4)
Eolina Quartet
4:47 AM
Chopin, Frédéric (1810-1849)
Scherzo no.4 in E major (Op.54)
Ronald Brautigam (fortepiano)
4:57 AM
Karlowicz, Mieczyslaw (1876-1909)
Chant de l'éternelle aspiration, première partie du tryptique symphonique 'Chants éternels' (Op.10)
Orchestre Français des Jeunes, Marek Janowski (director)
5:09 AM
Vivaldi, Antonio [1678-1741]
Trio sonata for 2 violins & continuo (RV.63) (Op.1 No.12) in D minor 'La Folia'
Il Giardino Armonico , Giovanni Antonini (director)
5:19 AM
Tchaikovsky, Pyotr Il'yich (1840-1893)
Concerto for piano and orchestra no.1 (Op.23) in B flat minor
Stephen Hough (piano), Stavanger Symphony Orchestra, John Storgårds (conductor)
5:52 AM
Jarzebski, Adam (1590-1649)
Diligam te Domine from Canzoni e concerti
Lucy van Dael, Marinette Troost (violins), Richte van der Meer, Reiner Zipperling (violas da gamba), Anthony Woodrow (violone), Viola de Hoog (cello), Michael Fentross, (theorbo), Jacques Ogg (organ)
5:57 AM
Beethoven, Ludwig van (1770-1827)
Five Scottish and Irish Folksongs (WoO.152/20)
Stephen Powell (tenor), Lorraine Reinhardt (soprano), Linda Lee Thomas (piano), Gwen Thompson (violin), Eugene Osadchy (cello), Vancouver Chamber Choir, Jon Washburn (conductor)
6:11 AM
Debussy, Claude (1862-1918) orch. Henri Büsser
Printemps - suite symphonique
Bergen Philharmonic Orchestra, Jun Märkl (conductor).
Last on