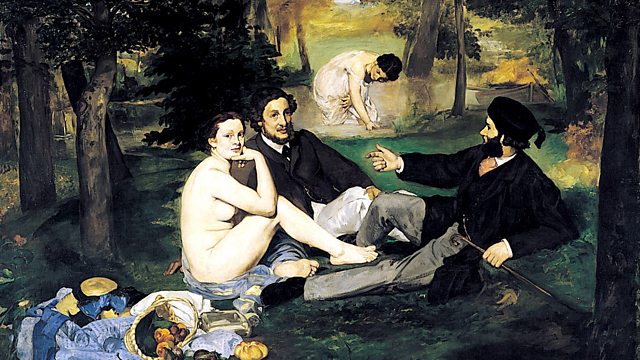 Edouard Manet: The Direct Gaze
Actor Fiona Shaw unlocks the gaze of the most famous naked women painted by French Impressionist Edouard Manet. With contributions from novelist Julian Barnes and artist Michael Craig Martin.
The 19th century French painter, Edouard Manet made art modern: his most famous work is "Le déjeuner sur l'herbe. He is known as the father of Impressionism but we know comparatively little about him. He did away with mythology, allegory and history and instead painted life around him, as it happened. His friend Baudelaire wrote to him "You are only the first in the degeneration of your art". Now, with a long awaited exhibition of his work soon to open at the Royal Academy in London, Fiona Shaw - who enjoys painting, when she's not acting or directing - stares back at the women in Manet's most famous works.
She talks to historians and artists including Julian Barnes, Manet's biographer, Juliet Wilson Bareau, curator Stephane Guegan, art Historian Tamar Garb and contemporary artists who carry a torch for their 19th century predecessor, including the father of Brit Art, Michael Craig Martin.
Manet first shocked the Paris salon in 1863 with his painting of a naked woman having a picnic with her friends in a glade on the Seine. Rejected by the formal exhibition it found its way to the Salon des Refuses, an invention of Napolean III in that very same year, but he was so put out by Le déjeuner sur l'herbe that he said it was "an offence against decency" - while the Empress Eugenie walked past, determinedly not looking. Manet followed this with his painting of a naked prostitute...
In this programme, Fiona Shaw strips back to explore painting itself. She visits the Musee d'Orsay to see Manet's great works, traces his influences from the Louvre and walks the streets near his studio to unlock the gaze of his sitters.
Producer: Kate Bland.
Last on