Essex
Recorded in Essex, the chair for this week's episode of Gardeners' Question Time is Eric Robson. Answering the audience's questions are panel members Matt Biggs, Christine Walkden and Bunny Guinness.
Produced by Howard Shannon
A Somethin' Else Production for BBC Radio 4.
Q: Is it possible to grow Medlars from seed, and if so do they have to be prepared in a particular way?
A: You can grow them from seed, though they may take longer than if grown on graft-stock and will be less uniformed. If growing from seed it is best to wash off any slime and give them a cold period, before sowing in a peat/grit mixture at the base of a north wall.
Q: What would you do with the soil from a container that has been badly infected with vine weevil?
A: You could get your mower roller and spread them in your compost, or dig a large hole around 4 feet (1.2 metres) deep and bury them in it. Alternatively you could leave them in the pot or box for at least a few years to allow them to die off before using the soil.
Q: This year on my allotment I planted some new Gladioli which turned out with skeletal leaves, and either did not flower or the flowers did not open properly. Someone suggested it was due to thrips. Should I destroy them?
A: Gladioli struggled in this last year generally because of the weather, they often suffered in soil that was too heavy and lacked enough sun. They grow best in a light, free-draining soil that stays warm. If it is infected with thrips you could place yellow sticky traps near the plants (the sort that are used for whitefly) to catch them.
Q: How long would you leave the ground fallow that was under conifers that have been cut down?
A: Anywhere where conifers have been is usually very dry, impoverished, and root-filled. You should try and get as many of the roots out as possible and improve the soil with organic matter over the winter time, particularly around where you are going to plant and allow it to settle. Be careful not to over-improve the soil because if you improve the soil in the planting hole then the roots tend not to go out from there.
Q: Could you recommend a disease-resistant climbing rose, preferably perfumed, for a North-facing wall?
A: Providing you do some sensible pruning to contain it, Rosa brunonii could do well. It is a large and vigorous rose with beautiful cream/white, flowers. Alternatively you could try Madame Alfred Carriere, which is also a white-flowered rose and vigorous. It is also worth remembering that when you are growing at the base of a wall to improve the soil before planting and make sure that it gets plenty of moisture because drying out at the roots is more likely to encourage powdery mildew.
Q: What is the best way to propagate Hardy Fuchsias?
A: You can treat them like normal Fuchsias and take soft-wood stem-tip cuttings, around three inches long (7.62cm), throughout the growing season. Remove the bottom leaves and put them in a pot and grow them in exactly the same way as you would normal Fuchsias. You could also take hard-wood cuttings from them, divide the stem lengths up to six to nine inches (15.24-22.86cm), and place in reasonably gritting compost in a deep pot. You could then store in a garage with a window, or in a sheltered position outside.
Q: I have grown potatoes for two years that are full of wireworm, how can I resolve the problem?
A: Wireworm often appears where you have newly-cultivated ground. Wireworms are very small at around 1-1.5cms long (0.4 inches), and they are hard and orange/brown in appearance. Over time they will disappear, especially if you are cultivating the ground and birds can gain access. They should disappear in around one to two years.
Q: How do you contain white rust on Chrysanthemums?
A: It is a very difficult disease to control as there is no fungicide approved for white rust. It is recognisable by white raised pustules on the underside of the leaf. It can be extremely debilitating and destroy a plant quite quickly. In most cases it is best to destroy the plant rather than attempt to save it.
Q: My greenhouse is in shade most of the day, there is nowhere else it can go. Can the panel suggest anything I could grow apart from moss? I will try anything.
A: Cucumbers do well with the shade, as well as watercress and wasabi. Cuttings will thrive initially in a shaded greenhouse and then can be moved to areas with more light. Lettuce will grow towards the beginning of the year before it gets too hot for them to germinate, and oriental vegetables would grow towards the end of the year.
Photographs courtesy of the Royal Horticultural Society.
Last on
Bordering on a technicolor dream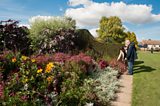 Dry, clay soils are no hinderance to creating a stunning all-year-round border at RHS Hyde Hall. Recent years have seen record low levels of rain - but not in 2012 of course.
Hardy Chrysanthemums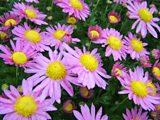 Unlike their tender cousins, hardy Chrysanthemums can be left in the ground throughout the winter.
Seven things Prince Charles says you should do in the garden