Tom Odell, Moby Dick, Utopia reviewed
With John Wilson.
David Cameron, Benedict Cumberbatch, Tilda Swinton and David Attenborough are among 135 people each reading a chapter a day of Herman Melville's epic novel Moby Dick, on a website curated by writer and whale enthusiast Philip Hoare. He talks about choosing an appropriate reading for the Prime Minister, and pairing chapters with works by artists such as Antony Gormley, Anish Kapoor and Tony Oursler - director of the video for David Bowie's new single - who created today's image of a whale's eye.
To mark the 150th birthday of the London Underground tomorrow, John and author Iain Sinclair go down the escalators to discuss the Tube's contribution to our culture, from the graphic-design, murals and architecture at the stations themselves, to the ways the Tube has cropped up in art, books and films - from Henry Moore's wartime drawings to American werewolves chasing hapless commuters.
Utopia is a new TV thriller which focuses on a mysterious graphic novel and the sinister events that befall a group of people when they get hold of an original manuscript of it. Graphic novel enthusiast Rachel Cooke gives her verdict.
Winner of the 2013 Brits Critics' Choice award Tom Odell has been writing music since he was 13. Now aged 22, he signed a record deal after four gigs. He discusses his debut EP Songs From Another Love, and the expectations that can accompany a high-profile award.
Producer Olivia Skinner.
Last on
Moby Dick Big Read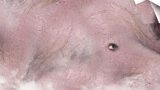 Picture from Chapter 116: The Dying Whale. Artist: Tony Oursler.
Moby Dick Big Read is curated by artist Angela Cockayne and writer Philip Hoare.  
Featured in...
Magazine programme on the worlds of arts, literature, film, media and music.