Divorce and the over 60s; Maternal incest; Couples' wardrobes
Divorce and the over 60s, rising numbers of marriages are breaking down when couples near retirement. Uncovering hidden stories of abuse - maternal incest. Couples' wardrobes: Tanya Sarne and Andrew McGibbon. Protection for women trafficked from Nepal. Presented by Jenni Murray.
Last on
Maternal Incest
The concerns over sexual abuse have been high on the public agenda for several decades now fuelling public anxiety, media uproar and political debate. However the issue of women committing sexual abuse remains uncomfortable and rarely discussed. Childline figures from 2008 to 2009 indicated that 17% of calls they took from children talking about sexual abuse cited women as their abusers. Jenni is joined by Professor Jackie Turton from Essex University to look at what lies behind the resistance to accepting some women can and do abuse, and the consequences of that denial for the survivors of that sexual abuse. They are joined by Claire Lilley, senior analyst in the NSPCC's strategy unit. Book:  Participation, Citizenship and Trust in Children's lives is edited by Hanne Warming, includes a chapter by Professor Jackie Turton.  It is published by Palgrave Macmillan.
Couples' Wardrobes: Tanya Sarne and Andrew McGibbon.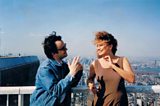 Henrietta Harrison visits the wardrobes of designer Tanya Sarne and her partner Andrew McGibbon.  Tanya founded the label Ghost in the eighties but now designs under her label Handwritten.  Her  partner, Andrew McGibbon who is over 15 years younger than her, is a writer, producer, actor and a drummer who has played with musicians including Morrissey. Despite the age-gap and different attitudes to fashion, they admit to Henrietta that their style is morphing into one.
Divorce and the Over Sixties
Fewer marriages end in divorce but according to the latest figures the number of over-sixties splitting up continues to rise and have almost doubled in a decade. Women are the main instigators, so why is it happening and how easy an option is it?  To discuss Jenni is joined by
Sue Plumtree
who divorced in her sixtieth year and relationship expert and Agony Aunt
Susan Quilliam
.
Activist Anuradha Koirala and Sex Trafficking from Nepal
The Nepalese activist Anuradha Koirala has dedicated her life to rescuing vulnerable Nepalese girls from sex trafficking, and imprisonment, torture, and rape in Indian brothels. She set up a charity named Maiti Nepal - or 'mothers home' – and has since rescued thousands of girls, giving them refuge in special homes, where they receive care for HIV and sexual health problems in the face of widespread stigma, and also learn new skills. She spoke to Jenni to explain the problem of trafficking, and the ways in which she is battling to save girls and to give them new lives. 
Listeners' Feedback - Being a new Mother