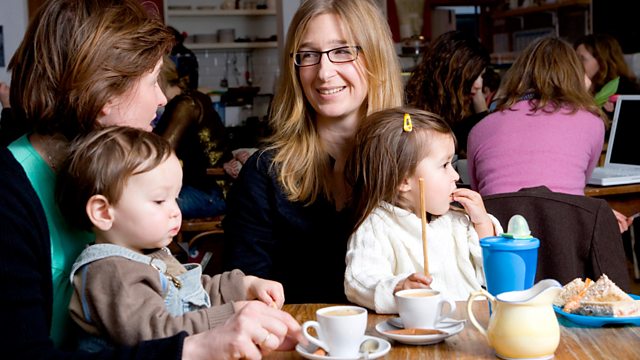 Lucy Tobin, Katriona Gilmore, child benefit
Listen in pop-out player
We discuss changes to who gets child benefit payments. Lucy Tobin, personal finance editor of the London Evening Standard on Ausperty - living well but spending less. We talk to the women at Great Ormond Street Hospital who are doing ground-breaking research into treating children with side effects associated with bone marrow transplants. Katriona Gilmore tells us about the Victorian Army surgeon who inspired her song, Dr James. Gilmore and Roberts are nominated for the best duo award in the BBC Radio Folk Awards 2013.
Presenter Jane Garvey.
Producer Sarah Crawley.
Last on
Child Benefit Changes
As of today it is estimated that one in ten families with dependent children will lose some or all of their child benefit. Financial journalist Lucy Tobin explains how these changes will work, while Ceri Thomas, Chief Executive of the Fawcett Society, discusses whether cuts to benefits are having a disproportionate effect on women and their families.
Physiotherapy After Leukaemia
When a child with leukaemia has a successful bone marrow transplant,  there is a chance that they will go on to develop severe Graft Versus Host Disease – or GVHD - where the new DNA attacks the patient's organs, such as their skin, gut, and liver. This can lead to a chronic tightening of the skin and underlying tissues, known as scleroderma, and a gradual loss of mobility in the arms and legs. If untreated the symptoms become progressively worse as the child grows. What is particularly cruel is that GVHD can appear up to five years after the successful bone marrow treatment. At Great Ormond Street Hospital a female physiotherapist and an occupational therapist began to notice the symptoms of GVHD, which had not been spotted by doctors or parents. They have now been given funding for a research project that will look at ways of diagnosing GVHD early enough to treat it with intensive physiotherapy, to potentially prevent later disability.  Felicity Finch went to their clinic to meet one of their patients, Nick, and his father Alex. Ellie Haggart, Paediatric Physiotherapist, and Dr Kanchan Rao, bone marrow Transplant Consultant, both at Great Ormond Street, join Jane to talk about the research.
Katriona Gilmore
Folk musician Katriona Gilmore tells us about the pioneering British Army surgeon who inspired her song, Dr James. It was discovered on his death that the surgeon had been a woman, causing a great scandal which the Army tried to silence. More recent research has shown that Dr James Barry had been born Margaret Ann Bulkley, and the deception began as a way to get her through medical school. Katriona and Jamie Roberts have been nominated as best duo in the BBC Radio Folk Awards 2013.
Ausperity
Lucy Tobin, Personal Finance Editor of the London Evening Standard, joins Jane to give us tips and advice on how to make our post-Christmas bank balances stretch a little bit further this year. She tells Jane about her new book Ausperity, and how to live the life we want for less.
Ausperity: Live the Life You Want for Less by Lucy Tobin is published by Heron Books