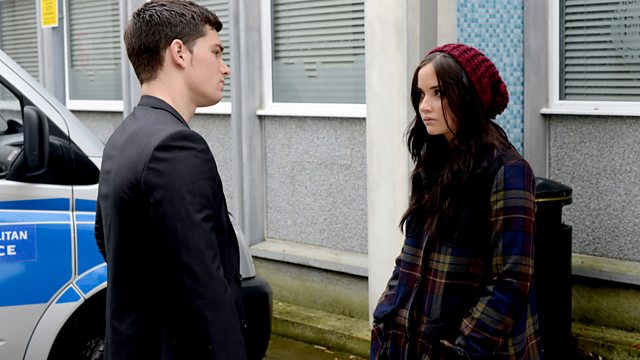 04/01/2013
Tanya and Abi find Max in the alleyway, smoking. He admits he was with Kirsty, but insists she's gone. Outside the police station, Lauren desperately attempts to talk Lucy round. Abi tells Joey where Lauren's gone, he goes after her with Fatboy driving. Though worried about Lauren, Tanya stays with a grief-stricken Max. The funeral cars set off without, Jack, Carol and Joey. Jack finds Carol, ashen, letter in hand and tries to calm her down. She's incensed at Derek's deceit and refuses to come to the funeral. She calls the number on the letter, but it's been disconnected. Jack catches up with the funeral party. Outside the police station Lucy lets rip at Lauren about her drinking, selfishness and dishonest behaviour but can't bring herself to turn Lauren in and walks away, leaving Lauren heartbroken. Stuck in traffic, something Fatboy says makes Joey realises Derek was more of a man than he ever thought. Eventually reaching Lauren, Joey persuades her not to hand herself in and they make a mad dash for the crematorium, where Cora's giving an unplanned eulogy for Derek. They arrive at the same time as Carol, who's had a change of heart. At the end of the service everyone's shocked to spot a smirking Kirsty in the back row. As the crematorium curtains close, Joey is overwhelmed with grief and runs out of the church. Alice comforts him and he confesses that he let their dad die.
In The Vic, Alfie knocks back shots with Ian. Alfie's upbeat; he has got a beautiful lady in his life. However, when alone, Alfie's sadness about losing Kat is clear.
Phil catches Jay in the café looking for jobs in the paper and discovers he's broke; he offers Jay his old job at the Arches and Jay happily accepts.
Last on
Credits
| Role | Contributor |
| --- | --- |
| Alice Branning | Jasmyn Banks |
| Joey Branning | David Witts |
| Max Branning | Jake Wood |
| Tanya Cross | Jo Joyner |
| Lauren Branning | Jacqueline Jossa |
| Lucy Beale | Hetti Bywater |
| Abi Branning | Lorna Fitzgerald |
| Cora Cross | Ann Mitchell |
| Carol Jackson | Lindsey Coulson |
| Jack Branning | Scott Maslen |
| Sharon Rickman | Letitia Dean |
| Alfie Moon | Shane Richie |
| Ian Beale | Adam Woodyatt |
| Kat Moon | Jessie Wallace |
| Arthur 'Fatboy' Chubb | Ricky Norwood |
| Poppy Meadow | Rachel Bright |
| Whitney Dean | Shona McGarty |
| Tyler Moon | Tony Discipline |
| Bianca Butcher | Patsy Palmer |
| Liam Butcher | James Forde |
| Executive Producer | Lorraine Newman |
| Writer | Carey Andrews |