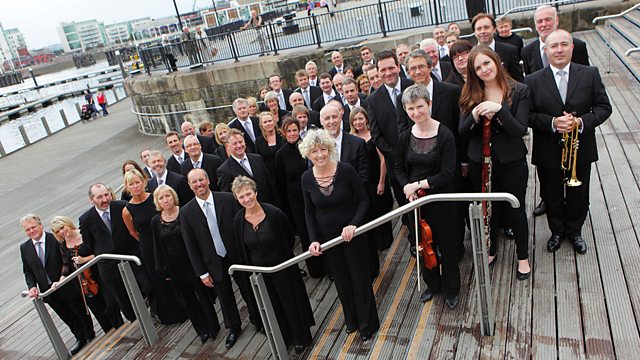 Penny Gore concludes her week of programmes by the BBC National Orchestra of Wales celebrating the 'entente cordiale' with French and British music, including works inspired by the sea.
This final programme opens with a concert given by the BBC NOW and conductor Martyn Brabbins on Tuesday night.
First, a UK premiere by John Pickard, who celebrates his 50th birthday this year. As well as composing, John is currently Professor of Composition and Applied Musicology at the University of Bristol, but his earlier musical studies were in Wales, at Bangor University with William Mathias. Tenebrae was written in 2008 and it explores the darkest colours of the orchestra, whilst also taking its influence from the dark story of Don Carlo Gesualdo, the Italian Renaissance composer whose intense and chromatic music paralleled the dark goings on of his own private life.
2013 also marks the centenary of Benjamin Britten, and the BBC National Orchestra of Wales begin a short season of Britten's concertante works with the Violin Concerto, with soloist Matthew Trusler. From Britten, we turn to his teacher, Frank Bridge, whose suite The Sea became his greatest and most lasting success, exploiting the full colours and textures of the orchestra. Bridge wrote it in Eastbourne, overlooking the channel, where a few years earlier Debussy had put the finishing touches to his seascape, La Mer, in the Grand Hotel.
Finally this afternoon, Ravel's great score for Diaghilev's ballet Daphnis et Chloé, from a concert conducted by Thierry Fischer to close the orchestra's 2011 season at St. David's Hall in Cardiff. The story of nymph and shepherd discovering their sexuality was originally written down in ancient Greece in the third century; in this version, Chloé gets abducted by a band of marauding pirates to prolong the action. Fortunately all ends happily and the final daybreak and general dance rank among the most gloriously orchestrated pieces in the repertoire.
Pickard: Tenebrae (UK premiere)
BBC National Orchestra of Wales,
Martyn Brabbins (conductor).
c, 2.25pm
Britten: Violin Concerto
Matthew Trusler (violin),
BBC National Orchestra of Wales,
Martyn Brabbins (conductor).
c. 2.55pm
Bridge: The Sea
BBC National Orchestra of Wales,
Martyn Brabbins (conductor).
c. 3.20pm
Ravel: Daphnis et Chloé
BBC National Orchestra of Wales,
Thierry Fischer (conductor).
Last on
More episodes
Next
You are at the last episode