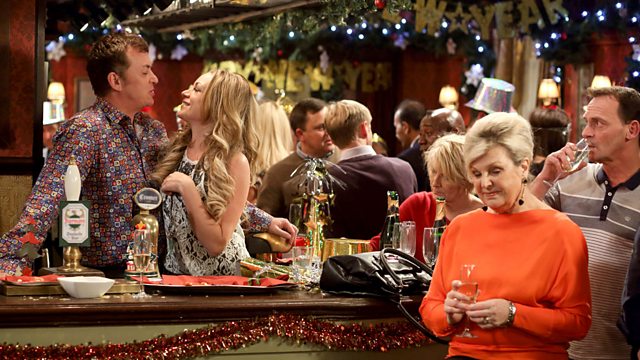 31/12/2012
Phil tells Lola Jay and Cora can be godparents. Lexi gets a rash. Phil discovers it's from the cream Lola put on Lexi. He shouts at her, implying she shouldn't get Lexi back. Jack's sickened, telling Sharon Phil's a bully. Sharon asks Jack, then Phil, to celebrate New Year Eve's at the Vic tonight. Phil tells Sharon Peggy's not coming to the christening – because of her. Phil apologises to Lola and Billy. Sharon kisses Phil's cheek, whilst Jack watches, vexed. As everyone counts down to midnight, Phil tells Jack: 'this time next year Sharon will be mine.'
Zainab tells AJ he better help make her party the party of the century and get Tamwar and Ayesha together. AJ spikes the cherryade with alcohol and tells guests to arrive in fancy dress. Ian, Denise, Patrick, Kim and AJ get drunk. Denise says Zainab can have her job back. Ayesha drinks the spiked cherryade and gets drunk. Tamwar looks after her whilst she's sick. Zainab, oblivious to Ayesha's intoxication, thinks they're getting together. Shirley leaves with stolen food. Fatboy takes a phone call for Zainab – someone's coming tomorrow – and leaves the Masoods a note. Masood makes a public announcement to the delighted guests – the registry office has confirmed their wedding date: Valentine's Day.
The police arrive at the Butchers'. Bianca tells Carol about Derek's dodgy goods. Carol questions if Liam's involvement is over. Liam swears it is. Liam overhears Carol and Bianca praising him, and texts Michael, telling him to keep the stuff; he's out. Meanwhile at the boxing gym, Michael breaks into Derek's lock box, discovering it's full of cash. Alice arrives at the Butchers' in time for New year.
Alfie asks delighted Roxy to move in with him. Kat overhears, gutted.
Kirsty rejects Michael's advances, despite looking lonely come the midnight countdown.
Last on
Credits
| Role | Contributor |
| --- | --- |
| Phil Mitchell | Steve McFadden |
| Sharon Rickman | Letitia Dean |
| Jack Branning | Scott Maslen |
| Zainab Khan | Nina Wadia |
| AJ Ahmed | Phaldut Sharma |
| Tamwar Masood | Himesh Patel |
| Ayesha Rana | Shivani Ghai |
| Bianca Butcher | Patsy Palmer |
| Carol Jackson | Lindsey Coulson |
| Liam Butcher | James Forde |
| Morgan Butcher | Devon Higgs |
| Tiffany Butcher | Maisie Smith |
| Billy Mitchell | Perry Fenwick |
| Lola Pearce | Danielle Harold |
| Cora Cross | Ann Mitchell |
| Jay Mitchell | Jamie Borthwick |
| Alfie Moon | Shane Richie |
| Roxy Mitchell | Rita Simons |
| Kat Moon | Jessie Wallace |
| Michael Moon | Steve John Shepherd |
| Shirley Carter | Linda Henry |
| Whitney Dean | Shona McGarty |
| Tyler Moon | Tony Discipline |
| Denise Fox | Diane Parish |
| Kim Fox | Tameka Empson |
| Patrick Trueman | Rudolph Walker |
| Ian Beale | Adam Woodyatt |
| Poppy Meadow | Rachel Bright |
| Arthur 'Fatboy' Chubb | Ricky Norwood |
| Alice Branning | Jasmyn Banks |
| Executive Producer | Lorraine Newman |
| Director | John Howlett |
| Writer | Colin Wyatt |