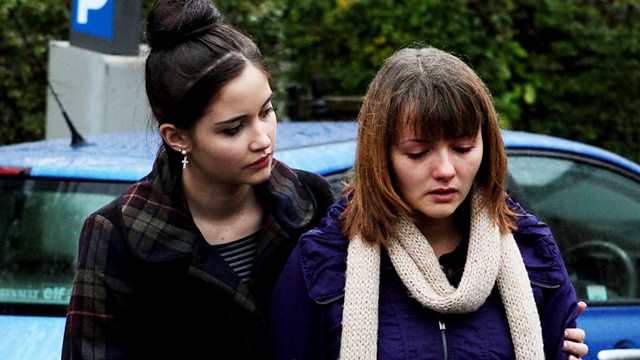 26/12/2012
The Brannings' are in shock. Max's annoyed when Carol tells Alice a heart-warming story about Derek rescuing a dog. At Abi and Cora's instigation the family lay flowers on the spot Derek died. Kat, Joey, Max and Jack are guilt-ridden about watching Derek die; Joey walks out while the police are questioning them. Carol keeps herself busy; if she stops, she remembers. Max assures Tanya he'll get rid of Kirsty. He meets Kirsty in the Vic. Tanya's on the edge, half wanting to comfort Max and half livid with him; Cora gives her a pep talk. Joey tries to talk to a grief-stricken Alice but she doesn't want to know. Jack comforts Alice. Lauren doesn't understand why everyone's so upset; Joey reacts angrily, reminding her that his dad's dead. Carol and Jack support Max at the mortuary. Kirsty collars Abi in the Square. Cora sends Abi on her way. Tanya steps in, telling Kirsty she can either clear off or she'll get rid of her herself.
Roxy and Amy have stayed overnight at the Vic, with Alfie sleeping on the sofa. Jean and Mo are disapproving; Roxy assures them she's not going to hurt Alfie. After seeing Kat and Alfie talking, Roxy starts to have doubts. She tells Alfie he's hurting and not thinking straight, she doesn't want to be second best. Alfie assures her she isn't, she's keeping him sane.
An excited Kim wakes up only to discover she's slept through Christmas. She blames Denise who, in turn, is fed up with Kim's selfishness. Patrick comes home. The Masoods' arrive bearing board games to join, Denise, Kim, Patrick, Shirley and Fatboy. Fed up, Kim storms off to the pub and when she returns Denise surprises her with a Christmas party.
Zainab decides to throw a New Year's Eve party.
Last on
Credits
| Role | Contributor |
| --- | --- |
| Max Branning | Jake Wood |
| Carol Jackson | Lindsey Coulson |
| Jack Branning | Scott Maslen |
| Tanya Cross | Jo Joyner |
| Cora Cross | Ann Mitchell |
| Abi Branning | Lorna Fitzgerald |
| Alice Branning | Jasmyn Banks |
| Lauren Branning | Jacqueline Jossa |
| Joey Branning | David Witts |
| Kat Moon | Jessie Wallace |
| Alfie Moon | Shane Richie |
| Roxy Mitchell | Rita Simons |
| Jean Slater | Gillian Wright |
| Mo Harris | Laila Morse |
| Kim Fox | Tameka Empson |
| Denise Fox | Diane Parish |
| Shirley Carter | Linda Henry |
| Arthur 'Fatboy' Chubb | Ricky Norwood |
| Patrick Trueman | Rudolph Walker |
| Zainab Khan | Nina Wadia |
| Masood Ahmed | Nitin Ganatra |
| Tamwar Masood | Himesh Patel |
| Ayesha Rana | Shivani Ghai |
| Policeman 1 | Amelia Donkor |
| Executive Producer | Lorraine Newman |
| Director | Jennie Darnell |
| Writer | Matt Evans |