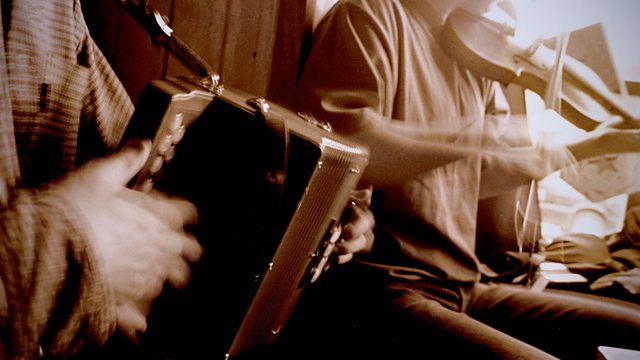 The Drunken Sailor
Richard Hawley explores the rich and fascinating tradition of the shanty, a very specific type of folk song that's connected with - but not necessarily about - the sea.
A work song, the shanty has a purpose and a rhythmic structure designed to help mariners carry out their work more easily and divert them from the sheer slog of hauling on ropes to raise sails, pushing capstans round to lift anchors, and manning pumps to empty the bilges.
The heyday of the shanty was around 1840 to 1880, when the Seven Seas were filled with the great full-rigged ships, the barques, the clippers, the windjammers, plying their trade to all points of the compass. It was a century of expanding imperialism, when the Royal Navy did rule the waves and its power and prestige enforced a peace often referred to as Pax Britannica.
The Royal Navy frowned on Jack Tars singing as they worked, however, and it was the merchant sailors who developed the sea song, often known as a forebitter; and the shanty; drawing on all manner of songs to create their own body of work. Minstrel songs, music hall tunes, slave melodies, traditional folk ballads, all were thrown into the seamen's repertoire.
By the end of the 19th century, as wood and sail gave way to iron and steam, the shanty was starting to disappear as sailors no longer needed songs to do their work, and the collectors began to get to work instead. Laura Alexandrine Smith, Richard Runciman Terry, Cecil Sharpe, and later Stan Hugill, published printed editions of what were once orally disseminated songs and recordings were made of the fast disappearing voices of the sea.
Contributors include multiple Radio 2 Folk Award winner Martin Carthy; Steeleye Span lead vocalist Maddy Prior; Shanty Jack; Chris Roche of the Shanty Crew; Pete Wood and Jim Mageean of the Keelers; shanty duo Derek & Julia Batters; Eric Ruff from the Novia Scotian group the Yarmouth Shantymen; Peter van der Meuwe from the National Maritime Museum; and shanty expert Bernie Davis.