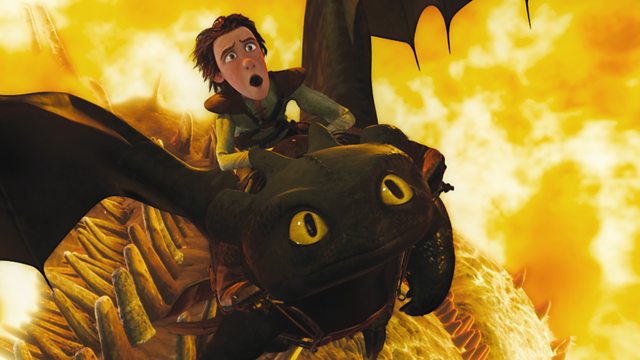 How to Train Your Dragon
Animated children's adventure based on the best-selling books. Hiccup Horrendous Haddock III is a young Viking, living in the village of Berk. Reluctantly trained to hunt the dragons that plague the village, Hiccup forms an unlikely friendship with Toothless, an injured dragon.
Hiccup and his friends accompany Gobber on a quest to kill the Boneknapper Dragon.

Hiccup and friends prepare for Snoggletog when most of the dragons fly away leaving Berk.
Credits
| Role | Contributor |
| --- | --- |
| Stackard | Philip McGrade |
| Ack | Robin Downes |
| Phlegma the Fierce | Ashley Jensen |
| Spitelout | David Tennant |
| Ruffnut | Kristen Wiig |
| Hiccup Horrendous Haddock III | Jay Baruchel |
| Stoick the Vast | Gerard Butler |
| Gobber the Belch | Craig Ferguson |
| Astrid Hofferson | America Ferrera |
| Snotlout | Jonah Hill |
| Fishlegs | Christopher Mintz-Plasse |
| Tuffnut | TJ Miller |
| Director | Dean Deblois |
| Director | Chris Sanders |
| Writer | Chris Sanders |
| Writer | Dean Deblois |
| Author | Cressida Cowell |
BBC Radio 5 live: Kermode and Mayo's Film Review