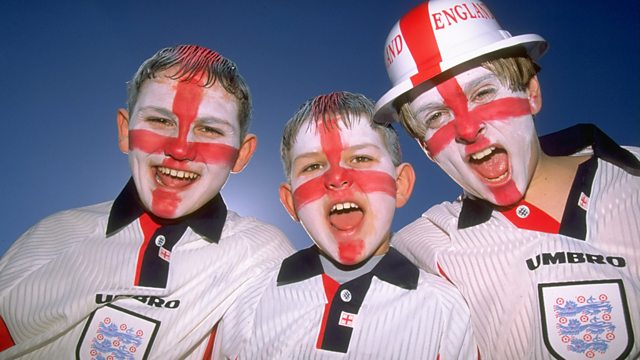 World in Motion - The British Love of Football
Despite Britain's love affair with pop music and football, any marriage of these two is almost always less than the sum of its parts. Sometimes rousing, sometimes jingoistic and frequently naff, the football song hasn't got a particularly spectacular or noble history.
Football teams record songs for a lot of reasons (celebration, anticipation, remuneration), but unless it's one of the bigger teams, there's little chance it will bother the pop charts. But a song from one of our national teams is a different matter. As the nation pulls together pre-tournament, these tracks usually sprint up the charts; as much a part of a national campaign as the inevitable early exit from the competition.
In 1986, the England squad's World Cup campaign was preceded by the somewhat presumptuous and fate-tempting track, "This Time We'll Get It Right". But of course, they didn't and this was mostly down to the fact that Argentina's tiny talisman, Maradona, scored with his hand and then claimed it was God's doing. A bitter pill to swallow, indeed. Four years later it was arguable whether the English team was any better, but their campaign song certainly was. In fact, it's quite possible that the English 1990 World Cup campaign song was the best, coolest, most iconic football song... ever! It shouldn't be forgotten either, that "World In Motion" is New Order's only number one single. And such is the song's excellence that it even got to number 5 on the Billboard Modern Rock chart, in the USA, a country which couldn't give a hoot about soccer or the England team.
Previously, football songs were usually rough 'n rowdy affairs, more in keeping with songs sung on Britain's football terraces. But this was a lot more sophisticated, more pop-sure, and in terms of credibility it couldn't have been bettered, even if it did feature a much-maligned rap by striker John Barnes. LL Cool J or KRS-1 weren't going to be losing any sleep over it, but given that Paul Gascoigne and Peter Beardsley were both considered for the part, maybe we should be grateful for small mercies.
"World In Motion" played a big part in lifting the mood of the nation prior to the World Cup. It seemed like 'Cool Britannia' happened half a decade before Tony Blair appeared (well, that's Britannia minus all of Scotland and parts of Ireland and Wales). The English team started well but, true to form, quickly fizzled out as old foe, Germany, beat them on penalties, giving us one of England's most iconic moments, when Paul Gascoigne was sent off in a flood of tears. And the final proved to be a bittersweet affair, as Germany won, beating Argentina who'd knocked us out of the previous World Cup Finals.
Come the next World Cup Finals, Scotland also roped in a genuine pop star to help them out, namely Rod Stewart who sang "Purple Heather". And though it only reached number 16 in the charts, that's probably more a reflection on the size of Scotland's population than the song's worth, although the New Order song is, obviously much, much better
Are football songs just naff, or good, rousing fun and a big part of the build-up to big competitions? The People's Songs wants to hear from you.
Last on