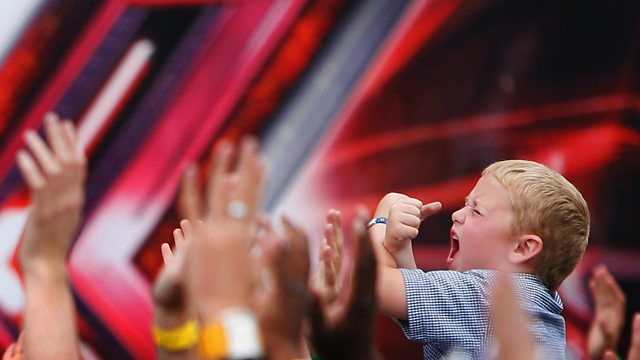 Bleeding Love - X Factor and Talent Shows
Britain's music scene is at an interesting juncture in the second decade of the 21st century. On the one hand technology is changing the rules of how a band interacts with its audience and how it supplies its music to that fanbase. Yet that same technology has also destroyed a band's traditional form of income: selling CDs. So, in a sense, music is now paradoxically both more and less popular. On the one hand, fewer people are actually buying music, and yet it's ubiquitous: in shops; on mobile phones; online and on TV, especially prime-time weekend TV where programmes like X-Factor, The Voice and Britain's Got Talent dominate the ratings wars.
The talent show is nothing new to the British audience. Opportunity Knocks debuted on radio in 1949, then appeared on TV in 1956 where it came and went for three decades. But when the BBC revived the show for a final run in 1987, the Beeb's decision to use a telephone voting system created the format we still watch today (prior to this, rather sweetly, the audience was invited to post their vote in).
Leona Lewis' number one single, "Bleeding Love", is a perfect example of the modern hit. Sung by an X-Factor winner, it was not only the biggest selling single in the UK in 2008, but it was the biggest selling worldwide, hitting number 1 in 34 countries. But both song and performer had the advantage of being exposed on national television to an audience of millions. The talent show has given us an insight into the spectacle of creating a star from scratch. It's thrilling entertainment, a large slice of human drama complete with tears and triumph, adversity and audacity, and one that we can have a hand in shaping.
Last on