Aggie MacKenzie; Ralph McTell; The Archers; Russell Grant's Inheritance Tracks
Listen in pop-out player
John McCarthy and Suzy Klein with journalist and broadcaster Aggie MacKenzie, Martin Green who was Head of Ceremonies at the 2012 Olympics and Andrew Parker who was 'the human bridge' during the Zeebrugge ferry disaster. Felicity Finch reveals the Secret Life of the Archers, poet Luke Wright offers a festive rhyme, travel writer Adrian Mourby describes Kosice, one of the 2013 European Capitals of Culture, singer Ralph McTell takes us by the hand and leads us through the streets of London, and celebrity astrologer Russell Grant shares his Inheritance Tracks
Producer: Dixi Stewart.
Last on
STUDIO GUEST :: AGGIE MACKENZIE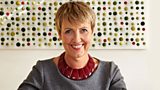 Journalist and TV presenter Aggie joins John McCarthy and Suzy Klein to talk about her life and work. 
Her TV series Storage Hoarders, is on ITV1 every weekday at 2pm.

SECRET LIFE :: THE ARCHERS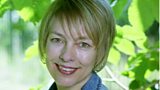 Felicity Finch aka Ruth in The Archers doubles as a radio reporter.  Here she investigates the secret lives of her Archers co-stars: psychologist Charlotte Martin who plays Susan Carter; and music technologist Barry Farrimond who is Ed Grundy.
I WAS THERE :: OLYMPIC HEAD OF CEREMONIES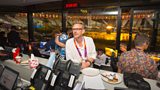 Listener Martin Green landed his dream job for the London 2012 Olympics and reports back on his amazing 5 years in the role.
I WAS THE ZEEBRUGGE HUMAN BRIDGE :: ANDREW PARKER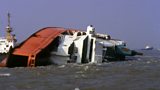 Andrew Parker was a passenger on the Herald of Free Enterprise which capsized at Zeebrugge in 1987.  He used his body as a human bridge to help other passengers to safety and was awarded the George Medal for gallantry.
TRAVEL :: KOSICE - ADRIAN MOURBY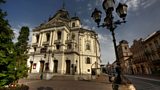 Travel journalist Adrian tells us about Kosice in Slovakia, one of the two 2013 Cities of Culture.  The other is Marseille.
DAYTRIP :: RALPH MCTELL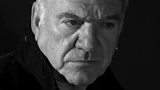 Ralph takes JP by the hand and shows him the streets that inspired his famous song 'Streets of London'.
Ralph's new album, Sofa Noodling, is out now.
INHERITANCE TRACKS :: RUSSELL GRANT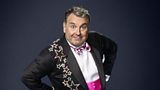 Russell chooses This is my Beloved from Kismit and Never Can Say Goodbye by Gloria Gaynor.

STUDIO PHOTO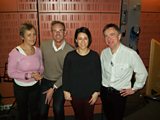 Aggie MacKenzie, Martin Green, Suzy Klein and John McCarthy
Luke's poem
The Slow Days
The slow days down to New Year's eve arrive,
the sherry fug of Christmas afternoon
is swapped for sodden walks and turkey pie
as flames lick green their wrapping paper feast.
In Bolton, Beccles, Basingstoke and Barrhead
cabin fever seizes naughty boys.
In Colchester, Kirkcaldy, Cowes and Croydon
fathers take the batteries out of toys.
And life plods on like boiled brussel sprouts,
the papers ration out what news they can,
it's floods or sales or national archive scraps
obituaries march sombre to the front.
In Droitwich, Douglas, Dewsbury and Dawlish
the grown-up single children leave for town.
In Falmouth, Fishguard, Fakenham and Frodsham
the tinsel round the bannisters falls down.
And so we turn to retail parks and malls
roam listlessly in close and drowsy wafts
half-dazzled in the vast resplendent halls
then join the traffic slowly shunting home.
In Greenock, Glynneath, Glossop, Goole and Gosport
the chocolate tins are cellophane and air.
In Halstead, Harrow, Holyhead and Hexham
a grandad guffs with gusto in his chair.
But spare a thought for cops and chefs on shifts,
for bellboys on a night bus in the rain,
for grizzly guvnors hauling out the bins,
for Jacks and Widow Twankies on the stage.
In Leighton-Linslade, Letchworth, Looe and Loughor
they roll the metal shop-fronts up at six.
In Mossley, Morpeth, Melksham, Mere and Monmouth
there's breakfast DJs churning out the hits.
And minutes fall like needles from the tree
as neighbours call round: is it bins tonight?
and relatives on platforms are set free
'til finally the last hurrah pulls up.
In Narbeth, Nayland, Normanton and Nantwich
they're counting down all pints and lily-flesh.
In Potton, Prescot, Portishead and Paignton
they snap the dead year off and start afresh.